Soarin' Around the World – Epcot – Attraction Checklist #103
Podcast: Play in new window | Download (Duration: 15:43 — 21.7MB) | Embed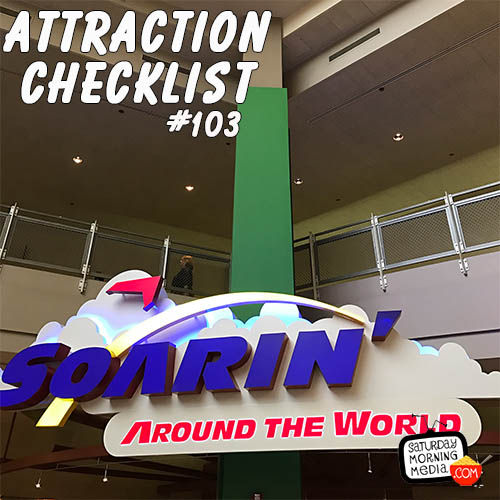 http://www.attractionchecklist.com – Will Grant and John like Soarin' Around the World any better at Epcot? Tune in and find out. Recorded on October 27, 2016.
TRANSCRIPT:
Welcome to Attraction Checklist.
This episode we head to Epcot to ride one of the park's most popular attractions, Soarin' Around The World.
The guide map describes this attraction saying: Soar high in the sky and feel the wind during a hang-gliding flight around the globe.
Guests must be 40" or taller to ride this attraction and FastPass+ is available. The Thrill Level describes this attraction as being a Slow Ride with Small Drops.
Now we did cover Soarin' Around The World at Disney California Adventure back in episode 29, so here are a few fast facts about the Epcot version of the attraction.
1. Soarin' Around the World debuted at Epcot on June 17, 2016.
2. Before the new film debuted, Soarin' at Epcot was closed so they could build a third theater for the attraction to increase capacity. The ride was closed in January of 2016 and reopened with the Original Soarin' film on May 27, 2016.
3. The finale of Soarin' Around the World has guests flyover Epcot! This ending can only be seen while riding the attraction at Epcot in Walt Disney World.
4. While waiting in line, guests are invited to play Soarin' Challenge. An interactive trivia challenge on big screens in the queue area.
5. If you listen carefully, your flight number for the ride is flight 5505. This commemorates the attraction's original opening day at Epcot, May, 5, 2005.
Let's take off for the skies on Soarin' Around the World. Along for the ride is John B. deHaas and after we ride we'll discuss our thoughts on this attraction. This is a binaural recording so if you have headphones put them on now as we ride Soarin' Around the World at Epcot!
The attraction audio recorded for this episode is available exclusively to the Saturday Morning Media Patron Patron. Support the show and get fun Bonus content over at http://www.patreon.com/saturdaymorningmedia
Episode edited by Stephen Staver
FOLLOW US
http://www.facebook.com/attractionchecklist
http://www.facebook.com/saturdaymorningmedia
http://www.twitter.com/SaturdayMMedia
https://plus.google.com/+Saturdaymorningmedia
https://www.linkedin.com/company/saturday-morning-media
http://www.youtube.com/user/SaturdayMorningMedia?sub_confirmation=1
FOLLOW GRANT
http://www.MrGrant.com
http://www.twitter.com/toasterboy
https://instagram.com/throwingtoasters/
SOURCES:
https://disneyworld.disney.go.com/attractions/epcot/soarin-around-world/
https://en.wikipedia.org/wiki/Soarin%27#Epcot
Show ©2020 Saturday Morning Media/Grant Baciocco