Country Bear Jamboree – Magic Kingdom – Walt Disney World – Attraction Checklist #50
Podcast: Play in new window | Download (Duration: 19:09 — 15.0MB) | Embed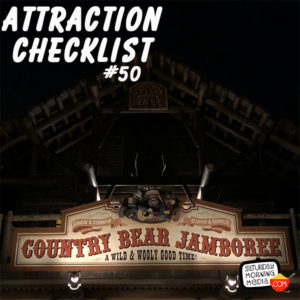 http://www.attractionchecklist.com – To celebrate the 50th episode of Attraction Checklist, Grant and John head to Grant's favorite attraction, Magic Kingdom's Country Bear Jamboree!  Recorded on March 21, 2018.
The attraction audio recorded for this episode is available exclusively to the Saturday Morning Media Patron Patron.  Support the show and get fun Bonus content over at http://www.patreon.com/saturdaymorningmedia
INTRO TRANSCRIPT:
Welcome to Attraction Checklist.
To celebrate the 50th episode of Attraction Checklist, we are going to cover one my all time favorite Disney attractions, Walt Disney World's Country Bear Jamboree. Located in Magic Kingdom's Frontierland, The County Bear Jamboree is described in the guide map with this brief sentence: Have a knee-slappin' time with these singing bears! There are no age or height requirements for this attraction and there is also no Thrill Level listed!
Before we clap our hands and stomp our feet and try to keep right with 'em, here are five fast facts about Walt Disney World's Country Bear Jamboree.
1. The Country Bear Jamboree was originally planned for Disney's Mineral King Ski Resort which was to be built in California and Walt was in on the early discussions of the attraction. In fact, it was one of the final attractions Walt personally helped develop. After Walt's passing, plans for the ski resort fell through but Imagineers decided the attraction would be a perfect fit for Magic Kingdom in Walt Disney World and the bears had their first performance on Magic Kingdom's opening day, October 1, 1971.
2. Imagineer Marc Davis led the design of the characters for the show and Imagineer X Atencio and musical director George Burns created and curated the songs the bears would sing in the show.
3. The Country Bear Jamboree proved to be so popular, it was given brand new songs and a holiday overlay in 1984 when the Country Bear Christmas Special debuted. In 1986, it was given another new show with a summer theme called the Country Bear Vacation Hoedown. The Vacation Hoedown continued at Walt Disney World until 1992. The Christmas Special remained in rotation until 2005. The show reverted back to the original show year round at that time.
4. In August of 2012, the show went down for a two month refurbishment and when it reopened on October 17, 2012, the original show had been edited with songs and dialogue removed, cutting the show down about 4 to 5 minutes in length.
5. One of the attraction's most popular characters is Big Al who sings Blood on the Saddle. Big Al was voiced by Country Music Hall of Fame member Tex Ritter. It is said that Tex Ritter did not tell his children (including actor John Ritter) that he provided the voice for Big Al, instead leaving it as a surprise for the first time they visited the Magic Kingdom and saw Big Al in person.
One other thing before we get to the show, if you enjoy the Country Bear Jamboree as much as I do, be sure to check out the other podcast I produce, The Country Bear Collector Show. It's a weekly video show dedicated to the amazing merchandise of The Country Bear Jamboree. you can find out more at www.CBJCollector.com.
Okay, gang, here we go. Joining me today is John B. deHaas and after we watch the show we will give you our thoughts on this attraction. This is a binaural recording so if you have headphones put them on now as we head to The Country Bear Jamboree at Walt Disney World's Magic Kingdom.
FOLLOW US
http://www.facebook.com/attractionchecklist 
http://www.facebook.com/saturdaymorningmedia 
http://www.twitter.com/SaturdayMMedia 
https://plus.google.com/+Saturdaymorningmedia 
https://www.linkedin.com/company/saturday-morning-media
http://www.youtube.com/user/SaturdayMorningMedia?sub_confirmation=1
FOLLOW GRANT
http://www.MrGrant.com
http://www.twitter.com/toasterboy 
https://instagram.com/throwingtoasters/
Sources:
WALT DISNEY WORLD WEBSITE
https://disneyworld.disney.go.com/en_GB/attractions/magic-kingdom/country-bear-jamboree/
WIKIPEDIA
https://en.wikipedia.org/wiki/Country_Bear_Jamboree
Show ©2018 Saturday Morning Media/Grant Baciocco