Bill Barretta (Muppets, Dinosaurs, Happytime Murders) – Under The Puppet #6
Podcast: Play in new window | Download (35.8MB) | Embed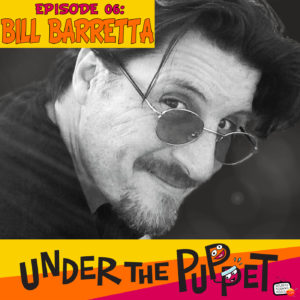 http://www.UnderThePuppet.com – Bill Barretta is the Muppet performer behind the characters of Pepe The King Prawn, Bobo the Bear and Johnny FIama. He also is the current performer for Rowlf the Dog, Swedish Checf and Dr. Teeth. In this interview we talk about his first job, his thoughts on creating characters and stepping into legendary ones, what his role as Puppet Captain/General entails and more. Also on the show, the next step of your Puppeteer Action Plan, a small action you can take today to help your puppetry career grow.
CONNECT WITH BILL
IMDB – http://www.imdb.com/name/nm0057321/
BLIND PEW CLIP – https://youtu.be/f-N5ITGI8Lo
CONNECT WITH THE SHOW
http://www.twitter.com/underthepuppet
http://www.facebook.com/underthepuppet
CONNECT WITH GRANT
http://www.MrGrant.com
http://www.twitter.com/toasterboy
https://instagram.com/throwingtoasters/
Art by Parker Jacobs
Music by Dan Ring
Help us make more shows like this one. Become a patron of Saturday Morning Media and get cool rewards! Visit www.patreon.com/saturdaymorningmedia for info!
©2017 Saturday Morning Media – https://saturdaymorningmedia.com