Thom Fountain (Sabrina the Teenage Witch, Muppets Tonight, Men In Black, Team America) – Under The Puppet #5
Podcast: Play in new window | Download (36.0MB) | Embed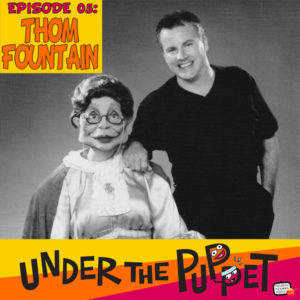 http://www.UnderThePuppet.com – Thom Fountain was the puppeteer of Salem the Cat on Sabrina The Teenage Witch for seven seasons. He's an Emmy nominated performer who's also worked on Men In Black, Team America, Muppets Tonight and more. In this interview. I talk to Thom about his career including his start in live shows for Sid & Marty Krofft, his thoughts on what skills puppeteers should study, his favorite puppeteer and more. Also on the show, the next step of your Puppeteer Action Plan, a small action you can take today to help your puppetry career grow.
CONNECT WITH THOM
IMDB – http://www.imdb.com/name/nm0288364/
VIDEO – Caprice Egyptian
VIDEO – Words of Wisdom with Badelia

CONNECT WITH THE SHOW
http://www.twitter.com/underthepuppet
http://www.facebook.com/underthepuppet
CONNECT WITH GRANT
http://www.MrGrant.com
http://www.twitter.com/toasterboy
https://instagram.com/throwingtoasters/
Art by Parker Jacobs
Music by Dan Ring
Help us make more shows like this one. Become a patron of Saturday Morning Media and get cool rewards! Visit www.patreon.com/saturdaymorningmedia for info!
©2017 Saturday Morning Media – https://saturdaymorningmedia.com