Julianne Buescher (Muppets, Dinosaurs, Sesame Street, Sid The Science Kid) – Under The Puppet #3
Podcast: Play in new window | Download (Duration: 31:38 — 23.7MB) | Embed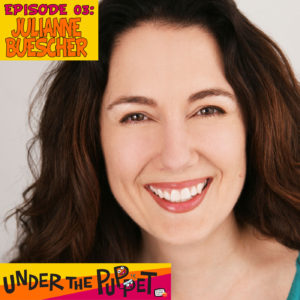 http://www.UnderThePuppet.com – On this episode we interview puppeteer Julianne Buescher who most recently played Yolanda the Rat and Denise on ABC's The Muppets. Before that she worked on projects such as Dinosaurs, Sesame Street, Jim Henson Company's Sid The Science Kid and more. Puppeteers will learn a lot from listening to this great interview with Julianne. Also, the next step in your Puppeteer Action Plan, a small action you can take today to help your puppetry career grow.
CONNECT WITH JULIANNE
http://www.imdb.com/name/nm0003925/
PUPPET BUILDING RESOURCES
Project Puppet – http://www.projectpuppet.com
The Foam Book – http://a.co/5mLw2Vb
CONNECT WITH THE SHOW
http://www.twitter.com/underthepuppet
http://www.facebook.com/underthepuppet
CONNECT WITH GRANT
http://www.MrGrant.com
http://www.twitter.com/toasterboy
https://instagram.com/throwingtoasters/
Art by Parker Jacobs
Music by Dan Ring

Help us make more shows like this one. Become a patron of Saturday Morning Media and get cool rewards! Visit www.patreon.com/saturdaymorningmedia for info!
©2017 Saturday Morning Media – https://saturdaymorningmedia.com