Drew Massey (Muppets, Mutt & Stuff, Greg The Bunny, Men In Black) – Under The Puppet #2
Podcast: Play in new window | Download (30.5MB) | Embed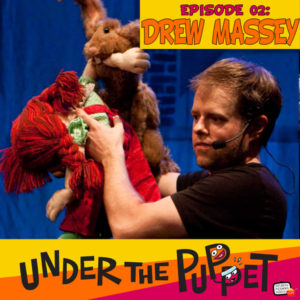 http://www.UnderThePuppet.com – Drew Massey has puppeteered for such projects as Muppets From Space, Sid The Science Kid, Greg The Bunny, Men In Black, Mutt & Stuff and more. We talk bad auditions, playing a character you don't identify with, creative fidgeting and more. Also, the next of your Puppeteer Action Plan, a small action you can take today to help your puppetry career grow.
CONNECT WITH DREW
http://www.drew-massey.com
http://www.imdb.com/name/nm0557297/
CONNECT WITH THE SHOW
http://www.twitter.com/underthepuppet
http://www.facebook.com/underthepuppet
CONNECT WITH GRANT
http://www.MrGrant.com
http://www.twitter.com/toasterboy
https://instagram.com/throwingtoasters/
Art by Parker Jacobs
Music by Dan Ring
Photo by Jonathan Reilly

Help us make more shows like this one. Become a patron of Saturday Morning Media and get cool rewards! Visit www.patreon.com/saturdaymorningmedia for info!
©2017 Saturday Morning Media – https://saturdaymorningmedia.com