Tyler Bunch (The Muppets, Sesame Street, Bear in the Big Blue House) – Under The Puppet #1
Podcast: Play in new window | Download (29.6MB) | Embed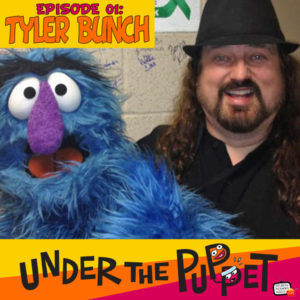 http://www.UnderThePuppet.com – Welcome to the inaugural episode of Under The Puppet! In this episode I interview puppeteer Tyler Bunch who works on Sesame Street, The Muppets, Bear in the Bug Blue House and more. Also, the first of your Puppeteer Action Plan, a small action you can take today to help your puppetry career grow.
CONNECT WITH TYLER
http://www.twitter.com/Tyler_Bunch
http://www.imdb.com/name/nm0120362/?ref_=fn_al_nm_1
CONNECT WITH THE SHOW
http://www.twitter.com/underthepuppet
http://www.facebook.com/underthepuppet
FOLLOW GRANT
http://www.MrGrant.com
http://www.twitter.com/toasterboy
https://instagram.com/throwingtoasters/
Art by Parker Jacobs
Music by Dan Ring
Photo from the Muppet Wiki
Help us make more shows like this one. Become a patron of Saturday Morning Media and get cool rewards! Visit www.patreon.com/saturdaymorningmedia for info!
©2017 Saturday Morning Media – https://saturdaymorningmedia.com