The Haunted Department Store Ch. 1 – The Mysterious Mysteries of Toby Taylor, The Fruit Magician
Podcast: Play in new window | Download (Duration: 8:07 — 8.6MB) | Embed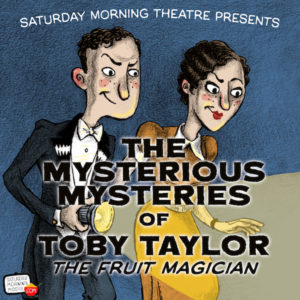 Brand new, five part, audio drama mini-series!  Meet Toby Taylor and his sister Rebecca!  Toby is a world renowned magician who performs magic tricks solely with fruit!  Toby and Rebecca also solve mysteries!  This episode begins their investigation in a Haunted Department Store!
CAST
Molly Fite as Rebecca Taylor
Jayne Entwistle as Mrs. Richardson
Michael Oosterom as the Stage Manager
Grant Baciocco as Toby Taylor
and Kevin Berntson as The Narrator
Music by Dan Ring
What did you think of Toby Taylor?  Let us know at hello@saturdaymorningmedia.com.
Help us make more shows like this one.  Become a patron of Saturday Morning Media and get cool rewards!  Visit http://patreon.com/saturdaymorningmedia for info!
FOLLOW US
http://facebook.com/saturdaymorningmedia
http://www.twitter.com/SaturdayMMedia
https://plus.google.com/+Saturdaymorningmedia
https://www.linkedin.com/company/saturday-morning-media
http://www.youtube.com/user/SaturdayMorningMedia?sub_confirmation=1
FOLLOW GRANT BACIOCCO
http://www.MrGrant.com
http://www.twitter.com/toasterboy
https://instagram.com/throwingtoasters/
SUBSCRIBE
http://www.youtube.com/user/SaturdayMorningMedia?sub_confirmation=1