Toy Story Midway Mania – Disney's Hollywood Studios – Attraction Checklist #006
Podcast: Play in new window | Download (11.3MB) | Embed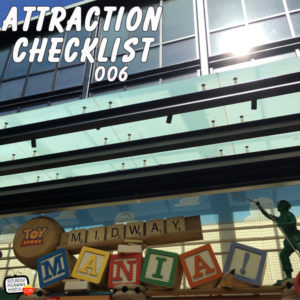 It's time to throw darts at balloons, break plates with balls, toss rings into space as we head to Disney's Hollywood Studios at Walt Disney World and take a spin on Toy Story Midway Mania!  Join me for a ride and some discussion bout this insanely popular attraction on this episode!
INTRO TRANSCRIPT
Welcome to Attraction Checklist.
Located in Pixar Place at Disney Hollywood Studios, The Toy Story Midway Mania attraction is described in the guide map in the following manner:  Ride this midway-style, 4-D shootin' game starring your favorite Toy Story characters.  There is no height requirement and the only Thrill Level warning is that this is a Spinning attraction.
Before we begin, here are five fast facts about Toy Story Midway Mania:
Toy Story Midway Mania officially opened on May 31, 2008 with two tracks.  Due to the ride's popularity, a third track was added to the attraction which opened eight years later in May of 2016.  The audio for this episode was recorded on that new third track on one of it's first days of operation.  Also, there are some name variations with this ride.  On the Walt Disney World website and in the guide maps, the ride is sometimes known only as Toy Story Mania!  However, on the marquee out front of the attraction, it's listed as Toy story Midway Mania.
Toy Story Midway Mania was the first attraction that Walt Disney Imagineers designed for two parks simultaneously.  Less than a month after the version at Disney Hollywood Studios opened, a second version was opened at Disney California Adventure.
The queue line for the attraction features a huge audio animatronic Mr. Potato head, voiced by comedian Don Rickles, that sings, tells jokes and can even remove and replace his own ear!
The ride is controlled by over 150 computers.  These computers not only track the movement of the ride vehicles, but every single pull of the string of every guests spring action shooter!
Some of the mini games in the attraction were updated in 2010 to coincide with the release of Toy Story 3 adding several new characters to the ride.
So get your spring loaded shooters ready, it's time to experience Toy Story Midway Mania!  Be sure to stick around after  to hear my thoughts on this attraction and I'd love to hear your thoughts too over at the  Attraction Checklist Facebook page at facebook.com/attractionchecklist.  Also, this is a binaural recording, so if you have headphones, It's time to test our skills on Toy Story Midway Mania!
FOLLOW US
http://www.facebook.com/attractionchecklist
http://www.facebook.com/saturdaymorningmedia
http://www.twitter.com/SaturdayMMedia
https://plus.google.com/+Saturdaymorningmedia
https://www.linkedin.com/company/saturday-morning-media
http://www.youtube.com/user/SaturdayMorningMedia?sub_confirmation=1
FOLLOW GRANT
http://www.MrGrant.com
http://www.twitter.com/toasterboy
https://instagram.com/throwingtoasters/
SUBSCRIBE
http://www.youtube.com/user/SaturdayMorningMedia?sub_confirmation=1
Sources:
Wikipedia
https://en.wikipedia.org/wiki/Toy_Story_Midway_Mania!
Disney-o-Rama
http://www.disneyorama.com/2008/06/toy-story-midway-mania-fun-facts/
StudiosCentral.com
http://studioscentral.com/toy-story-midway-mania-trivia
Thanks to:
http://windowtothemagic.com
This show is not affiliated or endorsed by the Walt DIsney Company.  It is for entertaiment purposes only.
Show ©2016 Saturday Morning Media/Grant Baciocco