Swiss Family Treehouse – Magic Kingdom – Walt Disney World – Attraction Checklist #141
Podcast: Play in new window | Download (Duration: 13:03 — 18.0MB) | Embed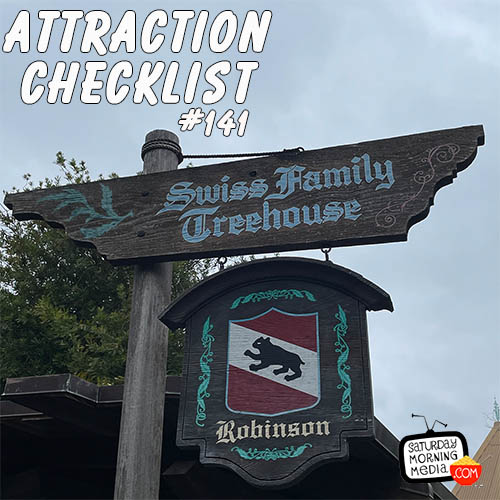 http://www.attractionchecklist.com –
Join us as we head to the Magic Kingdom to walk and review Swiss Family Treehouse on this episode of Attraction Checklist.
Photo by John B. deHaas.
Attraction audio recorded on July 15, 2022.
TRANSCRIPT:
Welcome to Attraction Checklist.
This episode we visit Magic Kingdom in Walt Disney World to experience the Swiss Family Treehouse.
The guide map describes this attraction saying, "Explore the treehouse inspired by the classic Disney film."
There are no age or height requirements for this attraction and there is no Thrill Level notes.
Before we start climbing stairs, here are five fast facts about the Swiss Family Treehouse at Magic Kingdom.
1. Swiss Family Treehouse is an Magic Kingdom opening day attraction, opening with the park on October 1, 1971.
2. The treehouse is based on the 1960 Walt Disney film Swiss Family Robinson.
3.The summit of the treehouse is 6 stories high and guests must climb 116 stairs to reach it!
4. While the tree looks very real, it is actually made up of steel, concrete and stucco.
5. There are 330,000 leaves on the Swiss Family Treehouse and each one is fabricated to withstand the weather and winds so they don't fall off the tree.
Let's climb the Swiss Family Treehouse. Joining me today is John B. deHaas and after our adventures we'll give you our thoughts on this attraction. This is a binaural recording so if you have headphones put them on now as we experience Swiss Family Treehouse at Walt Disney World's Magic Kingdom.
The attraction audio recorded for this episode is available exclusively to the Saturday Morning Media Patron Patron. Support the show and get fun Bonus content over at http://www.patreon.com/saturdaymorningmedia
Episode edited by Stephen Staver
FOLLOW US
https://www.instagram.com/attractionchecklist/
http://www.twitter.com/SaturdayMMedia
https://www.linkedin.com/company/saturday-morning-media
http://www.youtube.com/user/SaturdayMorningMedia?sub_confirmation=1
FOLLOW GRANT
http://www.MrGrant.com
http://www.twitter.com/toasterboy
https://instagram.com/throwingtoasters/
SOURCES:
https://disneyworld.disney.go.com/attractions/magic-kingdom/swiss-family-treehouse/
https://en.wikipedia.org/wiki/Swiss_Family_Treehouse
https://www.disneylists.com/2020/08/8-facts-secrets-swiss-family-treehouse-disneys-magic-kingdom-2/
Show ©2023 Saturday Morning Media/Grant Baciocco