Hall of Presidents 2022 – Magic Kingdom – Attraction Checklist #139
Podcast: Play in new window | Download (Duration: 32:43 — 45.0MB) | Embed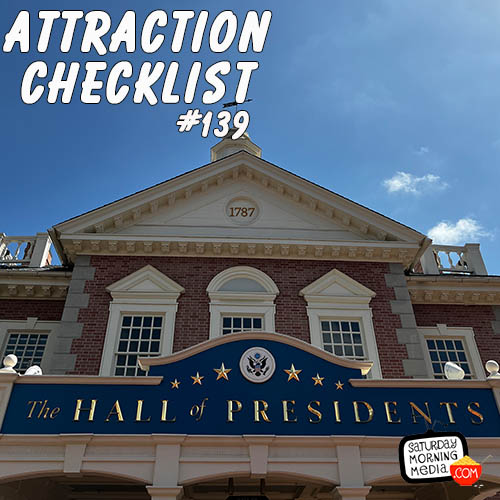 http://www.attractionchecklist.com –
Let's head to Magic Kingdom in Walt Disney World to check out the latest version of The Hall of Presidents on this episode of Attraction Checklist. Attraction audio recorded on July 15, 2022.
TRANSCRIPT:
Welcome to Attraction Checklist.
This episode we visit Magic Kingdom in Walt Disney World to check out the latest updates to The Hall of Presidents.
The guide map describes this attraction saying, "Behold all the U.S. Presidents on stage together."
There are no age or height requirements for this attraction and there is no Thrill Level notes.
Now, The Hall of Presidents is the one attraction at Magic Kingdom that you can count on to get updated every 4 to 8 years. This is the third time we've visited it on this Attraction Checklist so we may not have 5 fast facts, but here are a few fast facts about the latest version of this attraction.
In January 19 2021, The Hall of Presidents was closed for refurbishment. On July 19, 2021, Disney announced that President Joe Biden would be added to the attraction and the attraction itself reopened on August 3, 2021. The film The Idea of a President that had debuted in the previous version of the attraction, remained. Keeping with tradition, President Joe Biden voiced his animatronic figure but in a departure from previous versions, the President Biden figure only recites the Oath of Office and does not give a follow up speech.
Let's go visit The Hall or Presidents. Joining me today is John B. deHaas and after the show we'll give you our thoughts on this attraction. This is a binaural recording so if you have headphones put them on now as we experience The Hall of Presidents at Walt Disney World's Magic Kingdom.
The attraction audio recorded for this episode is available exclusively to the Saturday Morning Media Patron Patron. Support the show and get fun Bonus content over at http://www.patreon.com/saturdaymorningmedia
Episode edited by Stephen Staver
FOLLOW US
https://www.instagram.com/attractionchecklist/
http://www.twitter.com/SaturdayMMedia
https://www.linkedin.com/company/saturday-morning-media
http://www.youtube.com/user/SaturdayMorningMedia?sub_confirmation=1
FOLLOW GRANT
http://www.MrGrant.com
http://www.twitter.com/toasterboy
https://instagram.com/throwingtoasters/
SOURCES:
https://disneyworld.disney.go.com/attractions/magic-kingdom/hall-of-presidents/
https://en.wikipedia.org/wiki/The_Hall_of_Presidents#Biden_administration_(2021–present)
Show ©2022 Saturday Morning Media/Grant Baciocco