Kilimanjaro Safaris – Disney's Animal Kingdom – Attraction Checklist #133
Podcast: Play in new window | Download (Duration: 29:05 — 40.0MB) | Embed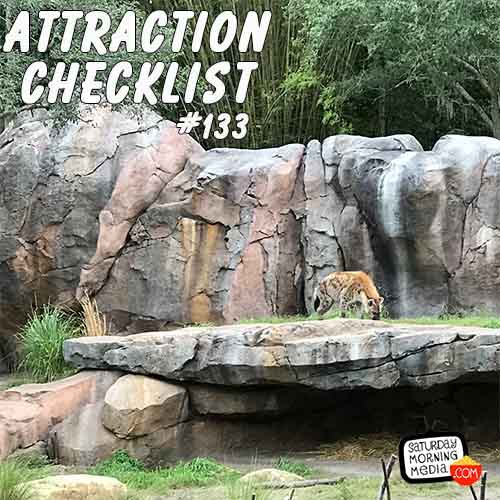 http://www.attractionchecklist.com
It's time to head out on our own real life safari adventure as we visit Disney's Animal Kingdom to ride Kilimanjaro Safaris on this episode of Attraction Checklist. Attraction audio recorded on October 27, 2016.
TRANSCRIPT:
Welcome to Attraction Checklist.
This episode we venture to Disney's Animal Kingdom to ride the ever popular, Kilimanjaro Safaris. The Animal Kingdom guide map describes this attraction saying, "Take a safari ride through the lush African savannah to search for lions, elephants, giraffes and more."
There are no age or height requirements for this attraction and the Thrill Level describes it as a Slow Ride.
Before we board our jeep, here are five fast facts about Kilimanjaro Safaris.
1. Kilimanjaro Safaris opened with Animal Kingdom on April 22, 1998.
2. For many years the ride featured a scripted storyline about poachers hunting a mother and baby elephant. In early cast previews, an animatronic of the slaughtered mother elephant was visible at the end of the attraction to drive home how harmful poachers are. This animatronic was removed before the park opened as the scene received many complaints.
3. The ride features close to thirty different species of animals, including crocodiles, warthogs, flamingos, giraffes and lions.
4. The flamingo island seen during the attraction is a giant hidden Mickey.
5. Between each of the animal's ecosystems are chains and bars that prevent the animals from venturing between sections.
Now let's go ride Kilimanjaro Safaris. Joining me today is my friend Eve Cunning and after we ride we'll give you our thoughts not his attraction. This is a binaural recording so if you have headphones put them on now as we ride Kilimanjaro Safaris and Disney's Animal Kingdom!
The attraction audio recorded for this episode is available exclusively to the Saturday Morning Media Patron Patron. Support the show and get fun Bonus content over at http://www.patreon.com/saturdaymorningmedia
Episode edited by Stephen Staver
FOLLOW US
https://www.instagram.com/attractionchecklist/
http://www.twitter.com/SaturdayMMedia
https://www.linkedin.com/company/saturday-morning-media
http://www.youtube.com/user/SaturdayMorningMedia?sub_confirmation=1
FOLLOW GRANT
http://www.MrGrant.com
http://www.twitter.com/toasterboy
https://instagram.com/throwingtoasters/
SOURCES:
https://disneyworld.disney.go.com/attractions/animal-kingdom/kilimanjaro-safaris/
https://en.wikipedia.org/wiki/Kilimanjaro_Safaris
Show ©2022 Saturday Morning Media/Grant Baciocco