Astro Orbiter – Disneyland – Attraction Checklist #130
Podcast: Play in new window | Download (Duration: 8:54 — 12.3MB) | Embed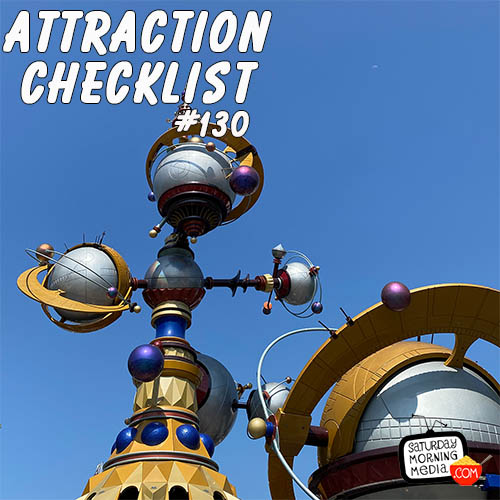 http://www.attractionchecklist.com – Let's pilot a rocket ship at the entrance to Tomorrowland at Disneyland park! We ride the Astro Orbiter on this episode of Attraction Checklist. Attraction audio recorded on May 18, 2021.
TRANSCRIPT:
This episode finds us in Tomorrowland at Disneyland to ride the Astro Orbiter.
The Disneyland Resort website describes this attraction saying: Pilot your very own rocket ship high in the sky amid a gleaming constellation of orbiting planets.
There are no age or height requirements for this attraction and the thrill level describes this attraction as a Spinning ride.
Before we blast off, here are five fast facts about Disneyland's Astro Orbiter!
1. Disneyland has had some form of the Astro Orbiter since 1956. The original attraction was known as the Astro Jets. In 1964 it was renamed the Tomorrowland Jets. That version closed in 1966 and returned a year later as The Rocket Jets, located high above Tomorrowland. The Rocket Jets closed in 1997 and the current version, the Astro Orbiter found its home at the front entrance of Tomorrowland on May 22, 1998.
2. When the attraction changed its name in 1964, it was because the ride's sponsor, United Airlines, complaining that the name Astro Jets was free advertising for American Airlines' Astrojet flight service.
3. The Astro Orbiter features 12 rockethsips that hold two riders per vehicle.
4. Astro Orbiter rockets travel at a speed of 11 rotations per minute and travel an average of 1.2 Million Miles per year.
5. A ride on the Astro Orbiter lasts a brief one minute and thirty seconds.
Let's take a ride on the Astro Orbiter. After we ride I'll give you my thoughts on this attraction. This is a binaural recording so if you have headphones put them on now as we ride Astro Orbiter at Disneyland.
The attraction audio recorded for this episode is available exclusively to the Saturday Morning Media Patron Patron. Support the show and get fun Bonus content over at http://www.patreon.com/saturdaymorningmedia
Episode edited by Stephen Staver
FOLLOW US
https://www.instagram.com/attractionchecklist/
http://www.twitter.com/SaturdayMMedia
https://www.linkedin.com/company/saturday-morning-media
http://www.youtube.com/user/SaturdayMorningMedia?sub_confirmation=1
FOLLOW GRANT
http://www.MrGrant.com
http://www.twitter.com/toasterboy
https://instagram.com/throwingtoasters/
SOURCES:
https://disneyland.disney.go.com/attractions/disneyland/astro-orbitor/
https://www.tripsavvy.com/disneyland-astro-orbiter-4096600
Show ©2022 Saturday Morning Media/Grant Baciocco