Tomorrowland Speedway – Magic Kingdom – Attraction Checklist #129
Podcast: Play in new window | Download (Duration: 16:25 — 22.6MB) | Embed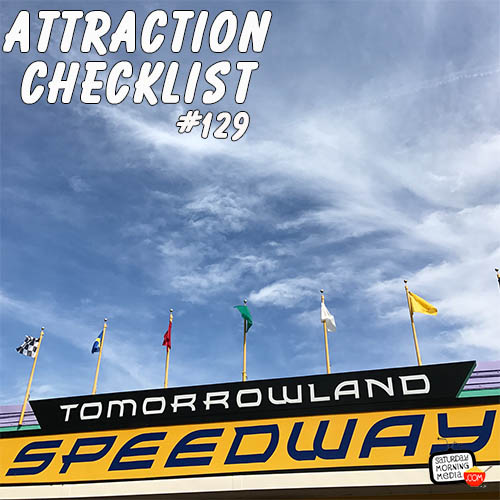 http://www.attractionchecklist.com – Start your engines! It's time to race around the Tomorrowland Speedway at Walt Disney World's Magic Kingdom. Attraction audio recorded on October 29, 2016.
TRANSCRIPT:
Welcome to Attraction Checklist.
Strap in! We're headed to Walt Disney World's Magic Kingdom to ride the Tomorrowland Speedway!
The Magic Kingdom guide map describes the attraction saying: Take a ride in your very own hot rod.
Guests must be 32" (or 81 cm) tall in order to ride but guests must be 54" (or 137) to drive their own car. Those under 54" must be accompanied by someone who is 54" tall. There is no thrill level listed for this ride but I'd say it's pretty loud. And at times bumpy.
Here now are five fast facts about Tomorrowland Speedway.
1. Tomorrowland Speedway is an opening day attraction, opening with Magic Kingdom on October 1, 1971
2. When the attraction originally opened it was called the Grand Prix Raceway. In 1994, it was renamed the Tomorrowland Indy Speedway and in 2008, the word Indy was dropped and it became the Tomorrowland Speedway.
3. The length of the track has been shortened over the years due to construction around the ride. When the ride was opened, the track was approximately 3,118 feet. The track was shortened in 1974 for the construction of Space Mountain, again in 1987 to make room for Mickey's Toontown Fair, once more in 2012 for Dumbo the Flying Elephant and most recently in 2019 for the construction of Iron Lightcyle Power Run.
4. The attractions four lanes can accommodate up to 146 cars at once!
5. The top speed of a Tomorrowland Speedway vehicle is a pulse pounding 7.5 Miles or 4.7km Per Hour.
Let's race around the track on the Tomorrowland Speedway. After we ride I'll give you my thoughts on this attraction. This is a binaural recording so if you have headphones put them on now as we ride the Tomorrowland Speedway at Walt Disney World's Magic Kingdom.
The attraction audio recorded for this episode is available exclusively to the Saturday Morning Media Patron Patron. Support the show and get fun Bonus content over at http://www.patreon.com/saturdaymorningmedia
Episode edited by Stephen Staver
FOLLOW US
https://www.instagram.com/attractionchecklist/
http://www.twitter.com/SaturdayMMedia
https://www.linkedin.com/company/saturday-morning-media
http://www.youtube.com/user/SaturdayMorningMedia?sub_confirmation=1
FOLLOW GRANT
http://www.MrGrant.com
http://www.twitter.com/toasterboy
https://instagram.com/throwingtoasters/
SOURCES:
https://disneyworld.disney.go.com/attractions/magic-kingdom/tomorrowland-speedway/
https://en.wikipedia.org/wiki/Autopia#Magic_Kingdom
https://www.disneylists.com/2020/04/10-facts-secrets-tomorrowland-speedway-disneys-magic-kingdom-2/
Show ©2022 Saturday Morning Media/Grant Baciocco