Space Mountain – Disneyland – Attraction Checklist #128
Podcast: Play in new window | Download (Duration: 11:06 — 15.3MB) | Embed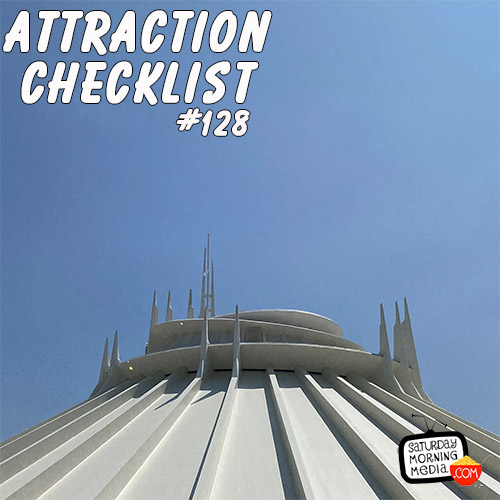 http://www.attractionchecklist.com – This episode John and Grant visit Disneyland to ride the classic attraction: Space Mountain! Attraction audio recorded on May 18, 2021. Review audio recorded July27, 2018
TRANSCRIPT:
Welcome to Attraction Checklist.
Let's head off to Disneyland to ride the iconic Space Mountain.
The Disneyland Resort Website describes Space Mountain saying: Race through the cosmos in the dark to the edge of the galaxy and back on a thrilling roller-coaster ride.
Guests must be 40" or 102 centimeters to ride and the Thrill Level describes the attraction as being a Thrill Ride with Small Drops that is Dark Loud and Scary.
Here now are five fast facts about Space Mountain.
1. Space Mountain opened at Disneyland on May 27, 1977.
2. It was actually Walt Disney who came up with he idea of doing a Space themed indoor roller coaster at Disneyland. It was deemed impossible at the time due to limited technology and lack of space available in the park to build it. Disney revived the project to fit into the Magic Kingdom at Walt Disney World and developed a smaller Design to be built in Disneyland.
3. Six of the original seven Mercury astronauts attended the opening of Space Mountain in 1977.
4. Space Mountain closed in 2003 for a complete track replacement that kept the ride shuttered until June of 2005.
5. The music heard onboard of the current version of Space Mountain was composed my Michael Giacchino.
Let's blast off on Space Mountain! Joining me today will be none other than John B. deHaas and after we ride we'll give you our thoughts on this attraction and this is a binaural recording so if you have headphones put them on now as we ride the legendary Space Mountain at Disneyland!
The attraction audio recorded for this episode is available exclusively to the Saturday Morning Media Patron Patron. Support the show and get fun Bonus content over at http://www.patreon.com/saturdaymorningmedia
Episode edited by Stephen Staver
FOLLOW US
https://www.instagram.com/attractionchecklist/
http://www.twitter.com/SaturdayMMedia
https://www.linkedin.com/company/saturday-morning-media
http://www.youtube.com/user/SaturdayMorningMedia?sub_confirmation=1
FOLLOW GRANT
http://www.MrGrant.com
http://www.twitter.com/toasterboy
https://instagram.com/throwingtoasters/
SOURCES:
https://disneyland.disney.go.com/attractions/disneyland/space-mountain/
https://en.wikipedia.org/wiki/Space_Mountain_(Disneyland)
Show ©2021 Saturday Morning Media/Grant Baciocco