Walt Disney's Enchanted Tiki Room – Disneyland – Attraction Checklist #127
Podcast: Play in new window | Download (Duration: 30:20 — 41.8MB) | Embed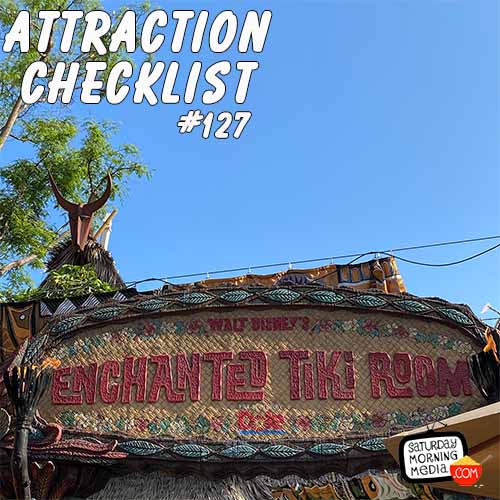 http://www.attractionchecklist.com – This episode we head off to where the birds sing words and the flowers croon! We visit Walt Disney's Enchanted Tiki Room at Disneyland on this episode of Attraction Checklist. Recorded on May 18, 2021.
TRANSCRIPT:
Welcome to Attraction Checklist.
Let's flap our wings over to Disneyland to visit Walt Disney's Enchanted Tiki Room.
The Disneyland Resort Website describes this attraction saying: Tropical birds, tiki gods and colorful flowers come to life in a swinging South Seas musical celebration.
There are no age or height requirements for this attraction and the thrill level describes it as being Dark and Loud.
Before we sing like the birdies sing, here are five fast facts about Walt Disney's Enchanted Tiki Room.
1. Walt Disney's Enchanted Tiki Room opened at Disneyland on June 23, 1963.
2. People associate The Enchanted Tiki Room with Dole Pineapples because they are the shows current sponsors and because of the Dole Whip soft serve sold near the entrance. Dole only became the sponsor in 1976. The shows original sponsor was United Airlines.
3. The Tiki Room features over 225 Audio Animatronic performers including birds, flowers and wooden tikis.
4. In order to keep the computers that run the show cool, The Enchanted Tiki Room building was Disneyland's first fully air-conditioned building.
5. The four main birds: José, Michael, Pierre and Fritz are voiced by Wally Boag, Fulton Burley, Ernie Newton and Thurl Ravenscroft respectively.
Let's go get our seats for this Tropical Serenade. After the show I'll give you my thoughts on this classic attraction. This is a binaural recording so if you have headphones put them on now as we visit Walt Disney's Enchanted Tiki Room at Disneyland.
The attraction audio recorded for this episode is available exclusively to the Saturday Morning Media Patron Patron. Support the show and get fun Bonus content over at http://www.patreon.com/saturdaymorningmedia
Episode edited by Stephen Staver
FOLLOW US
https://www.instagram.com/attractionchecklist/
http://www.twitter.com/SaturdayMMedia
https://www.linkedin.com/company/saturday-morning-media
http://www.youtube.com/user/SaturdayMorningMedia?sub_confirmation=1
FOLLOW GRANT
http://www.MrGrant.com
http://www.twitter.com/toasterboy
https://instagram.com/throwingtoasters/
SOURCES:
https://disneyland.disney.go.com/attractions/disneyland/enchanted-tiki-room/
https://en.wikipedia.org/wiki/Walt_Disney%27s_Enchanted_Tiki_Room
Show ©2021 Saturday Morning Media/Grant Baciocco