Mickey's PhilharMagic Now Featuring Coco – Disney California Adventure – Attraction Checklist #126
Podcast: Play in new window | Download (Duration: 21:24 — 29.5MB) | Embed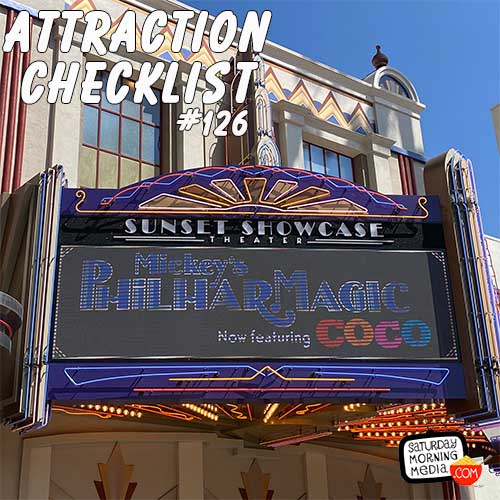 http://www.attractionchecklist.com – Mickey's PhilharMagic at Disney California Adventure has received an update with the addition of a song and characters from Disney Pixar's Coco! Join us as we get Un Poco Loco on this episode of attraction checklist. Recorded on November 1, 2021.
TRANSCRIPT:
Welcome to Attraction Checklist.
This episode we return to Disney California Adventure to see the updates to Mickey's PhilharMagic.
The Disneyland Resort website describes this attraction saying: Immerse yourself in the wonder of Disney animation and music when you experience this 12-minute, 3D movie starring Donald Duck.
There are no age or height requirements for this attraction and there isn't a thrill level listed either.
We experienced the previous version of Mickey's PhilharMagic at California Adventure back in episode 72 of Attraction Checklist, but here are some more facts regarding the recent update.
1. It was announced on July 1, 2021, that Mickey's PhilharMagic would receive a brand new segment in the form of a musical number from Coco on July 17th. The addition would happen at Disney California Adventure and Disneyland Paris on July 17 and then later in 2021 at Walt Disney World.
2. The addition of Coco to Mickey's PhilharMagic in 2021 marks the first time a new segment has been added to the show since it's debut at Walt Disney Worlds Magic Kingdom in 2003.
3. Donald Duck appearing with characters from Coco marks the first time Disney and Pixar animators have worked on a project where characters from both animation studios would appear together on screen.
4. One of original composers from Coco, Germaine Franco returned to score the Coco section of the film.
5. The song 'Un Poco Loco' from Pixar is featured in this update. According to Google Translate, Un Poco Loco means 'a bit crazy.'
Let's go check out the recently refreshed Mickey's PhilharMagic. I'm super excited to be joined by John B. deHaas again, this is the first time we've been in a Disney Park together since January of 2019. After we watch the film we'll give you our thoughts on this update! This is a binaural recording so if you have headphones put them on now as we check out Mickey's PhilharMagic at Disney California Adventure!
The attraction audio recorded for this episode is available exclusively to the Saturday Morning Media Patron Patron. Support the show and get fun Bonus content over at http://www.patreon.com/saturdaymorningmedia
Episode edited by Stephen Staver
FOLLOW US
https://www.instagram.com/attractionchecklist/
http://www.twitter.com/SaturdayMMedia
https://www.linkedin.com/company/saturday-morning-media
http://www.youtube.com/user/SaturdayMorningMedia?sub_confirmation=1
FOLLOW GRANT
http://www.MrGrant.com
http://www.twitter.com/toasterboy
https://instagram.com/throwingtoasters/
SOURCES:
https://disneyland.disney.go.com/attractions/disney-california-adventure/mickeys-philharmagic/
Show ©2021 Saturday Morning Media/Grant Baciocco