Mark Twain Riverboat – Disneyland – Attraction Checklist #125
Podcast: Play in new window | Download (Duration: 23:12 — 32.0MB) | Embed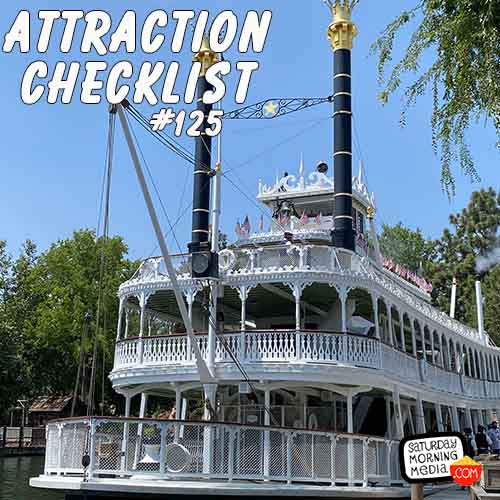 http://www.attractionchecklist.com – Let's take a leisurely cruise around Disneyland's Rivers of America on The Mark Twain Riverboat on this episode of Attraction Checklist! Recorded on May 18, 2021.
TRANSCRIPT:
Welcome to Attraction Checklist.
This episode we head to Disneyland's Frontierland to climb aboard the Mark Twain Riverboat. This attraction is described on the Disneyland Resort Website saying: Cruise the scenic Rivers of America on a sightseeing tour aboard a majestic 19th-century paddle boat.
There are no age or height requirements for this attraction and the Thrill Level describes the ride as being a Slow Water Ride that is Loud.
Before we shove off, here are five fast facts about the Mark Twain Riverboat at Disneyland.
1. The Mark Twain is a Disneyland opening day attraction, opening with the park on July 17, 1955.
2. Walt Disney named the riverboat the Mark Twain after the pen name of author Samuel Langhorne Clemens. Clemens, who was a riverboat captain in his youth took his pen name from the boating term mark twain meaning the water depth is safe for a boat to pass through.
3. The Mark Twain Riverboat stands 28 feet tall and is 105 feet long.
4. The Mark Twain travels around the Rivers of America on a rail. Though the operators can control the forward and reverse speed of the boat, the steering of the ship is all done by this rail.
5. The Mark Twain burns biodiesel fuel in it's boiler turning water into steam. The water used is fresh water from a tank on board, not the water in the Rivers of America.
Let's see what sights we can see as we cruise around the Rivers of America on the Mark Twain Riverboat. After we ride I'll give you my thoughts on this attraction and this is a binaural recording so if you have headphones put them on now as we ride the Mark Twain Riverboat at Disneyland.
The attraction audio recorded for this episode is available exclusively to the Saturday Morning Media Patron Patron. Support the show and get fun Bonus content over at http://www.patreon.com/saturdaymorningmedia
Episode edited by Stephen Staver
FOLLOW US
https://www.instagram.com/attractionchecklist/
http://www.twitter.com/SaturdayMMedia
https://www.linkedin.com/company/saturday-morning-media
http://www.youtube.com/user/SaturdayMorningMedia?sub_confirmation=1
FOLLOW GRANT
http://www.MrGrant.com
http://www.twitter.com/toasterboy
https://instagram.com/throwingtoasters/
SOURCES:
https://disneyland.disney.go.com/attractions/disneyland/mark-twain-riverboat/
https://en.wikipedia.org/wiki/Disney_riverboats
Show ©2021 Saturday Morning Media/Grant Baciocco