Pixar Pal-A-Round – Disney California Advanture – Attraction Checklist #123
Podcast: Play in new window | Download (Duration: 19:13 — 26.9MB) | Embed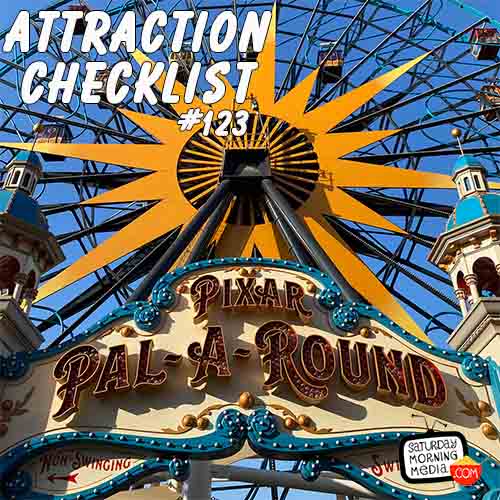 http://www.attractionchecklist.com – This episode we head to Disney California Adventure to learn about and ride the Pixar Pal-A-Round. Recorded on May 18, 2021.
TRANSCRIPT:
Welcome to Attraction Checklist.
This episode finds us on Pixar Pier at Disney California Adventure to take a ride on the Pixar Pal-A-Round. This attraction actually has two descriptions on the Disneyland Resort website. The first, for the standard version says: Take off on a classic Ferris wheel adventure high above Pixar Pier. The second, covering the swinging version of the ride reads: Climb aboard for an exhilarating Ferris wheel adventure that swoops, swings, and slides—high above Pixar Pier.
There are no age or height requirements for this attraction and the Thrill Level describes the standard version a Slow Ride and the swinging version as having Small Drops.
Before we get a spectacular view of Disney California Adventure, here are five fast facts about the Pixar Pal-A-Round.
1. The Pixar Pal-Around is a Disney California Adventure, opening day attraction, having opened with the park on February 8, 2001. When it opened it was known as The Sun Wheel. In 2008, it was renamed Mickey's Fun Wheel. And on June 23, 2018, it was renamed once again to the Pixar Pal-A-Round.
2. The original inspiration for the Pixar Pal-A-Round is the Wonder Wheel found at Coney Island in New York.
3. The Pixar Pal-A- Round rises above Pixar Pier a towering 150 feet or 46 meters.
4. The Pixar Pal-A-Round is unique for a Ferris wheel in that 16 of it's 24 gondolas ride on interior rails that created a, sometimes wild, swinging as the wheel rotates.
5. Each gondola features the image of a different Disney and Pixar character. Spot favorites like Woody, Buzz, Dory, Nemo, Mr. Incredible, Joy, Sadness, Lightning McQueen and more.
Let's take a whirl on the Pixar Pal-A-Round. And yes, I chose the signing option. After we ride I'll give you my thoughts on this attraction. This is a binaural recording so if you have headphones put them on now as we ride the Pixar Pal-A-Round at Disney California Adventure.
The attraction audio recorded for this episode is available exclusively to the Saturday Morning Media Patron Patron. Support the show and get fun Bonus content over at http://www.patreon.com/saturdaymorningmedia
Episode edited by Stephen Staver
FOLLOW US
https://www.instagram.com/attractionchecklist/
http://www.twitter.com/SaturdayMMedia
https://www.linkedin.com/company/saturday-morning-media
http://www.youtube.com/user/SaturdayMorningMedia?sub_confirmation=1
FOLLOW GRANT
http://www.MrGrant.com
http://www.twitter.com/toasterboy
https://instagram.com/throwingtoasters/
SOURCES:
https://disneyland.disney.go.com/attractions/disney-california-adventure/pixar-pal-a-round-non-swinging/
https://disneyland.disney.go.com/attractions/disney-california-adventure/pixar-pal-a-round-swinging/
https://en.wikipedia.org/wiki/Pixar_Pal-A-Round
Show ©2021 Saturday Morning Media/Grant Baciocco