Star Wars: Rise of the Resistance COVID Restrictions – Disneyland – Attraction Checklist #122
Podcast: Play in new window | Download (Duration: 22:23 — 31.0MB) | Embed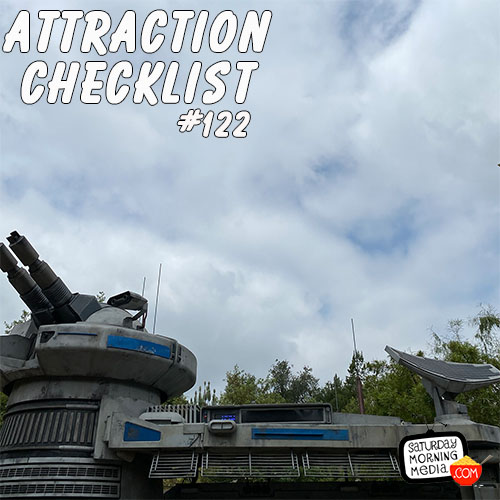 http://www.attractionchecklist.com – Let's go to Disneyland and ride Rise of the Resistance to see what had to be cut due to the pandemic on this episode of Attraction Checklist. Recorded on May 18, 2021.
TRANSCRIPT:
Welcome to Attraction Checklist.
This episode we head to Galaxy's Edge to experience the Pandemic Shortened version of Star Wars: Rise of the Resistance. The Disneyland Resort website describes the attraction saying: Join the Resistance in an epic battle against the First Order on this exciting new ride.
Guests must be 40" or taller in order to ride this attraction and the Thrill Level describes it as being a Thrill Ride that is Dark, Loud, Scary and has small drops.
We did cover Walt Disney World's Rise of the Resistance back in episode 88, but here are five fast facts about Disneyland's Rise of the Resistance.
1. Star Wars: Rise of the Resistance opened at Disneyland on January 17, 2020.
2. The main Rise of the Resistance ride vehicles utilize Radio Frequency Identification technology that allow it to navigate the attraction without a track.
3. When guests enter a room on the star destroyer that seeming is packed with AT-AT vehicles, there are only two that are physically present. Strategically placed mirrors make it seem as if there are more.
4. The blaster fire that is simulated throughout the attraction use arrays of LEDs to give the illusion that the blaster fire is traveling through the air.
5. When Disneyland reopened after being closed for the pandemic, the ride experienced was shortened to comply with local health guidelines. The pre-show experience featuring Rey and BB-8 is cut to minimize guest's time indoors.
Well, let's see if an abbreviated version of Rise of the Resistance is still as impressive as the full experience. After the ride, I'll give you my thoughts on this attraction. This is a binaural recording so if you have headphones, put them on now as we head to Disneyland to ride the pandemic shortened version of Rise of the Resistance.
The attraction audio recorded for this episode is available exclusively to the Saturday Morning Media Patron Patron. Support the show and get fun Bonus content over at http://www.patreon.com/saturdaymorningmedia
Episode edited by Stephen Staver
FOLLOW US
http://www.facebook.com/attractionchecklist
http://www.facebook.com/saturdaymorningmedia
http://www.twitter.com/SaturdayMMedia
https://plus.google.com/+Saturdaymorningmedia
https://www.linkedin.com/company/saturday-morning-media
http://www.youtube.com/user/SaturdayMorningMedia?sub_confirmation=1
FOLLOW GRANT
http://www.MrGrant.com
http://www.twitter.com/toasterboy
https://instagram.com/throwingtoasters/
SOURCES:
https://disneyland.disney.go.com/attractions/disneyland/star-wars-rise-of-the-resistance/
https://en.wikipedia.org/wiki/Star_Wars:_Rise_of_the_Resistance
Show ©2021 Saturday Morning Media/Grant Baciocco