Casey Jr. Circus Train – Disneyland – Attraction Checklist #121
Podcast: Play in new window | Download (Duration: 12:30 — 17.5MB) | Embed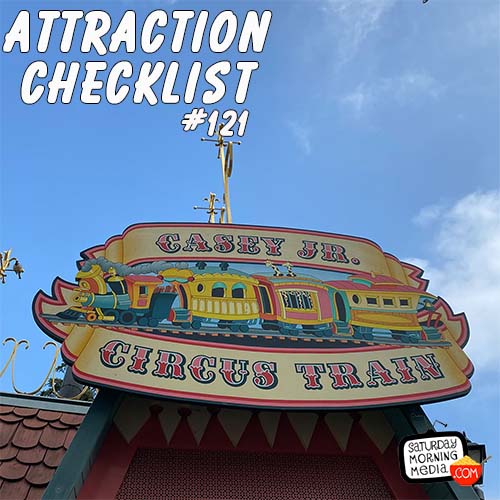 http://www.attractionchecklist.com – I think we can, I think we can take a ride on Disneyland's Casey Jr. Circus Train. Ride audio recorded on May 18, 2021. Review recorded February 7, 2019
TRANSCRIPT:
Welcome to Attraction Checklist.
This episode we visit Fantasyland in Disneyland to ride Casey Jr. Circus Train. The Disneyland Resort website describes this attraction saying: Enjoy a whimsical tour through miniature versions of fairytale locales from classic Disney movies.
There are no height requirements for this attraction and the Thrill Level describes the attraction as being a slow ride.
Before we ride along in the monkey cage, here are five fast facts about Casey Jr Circus Train.
1. Casey Jr Circus Train was a Disneyland opening day attraction opening with the park on July 17, 1955. However, the ride was closed the next day and remained closed through July 31st, 1955 for safety inspections.
2. Casey Jr. Circus Train takes guests on a tour of Storybook Land at a much quicker pace than the Storybook Land Canal Boats we covered back in episode 33. Along the way you see several famous sites from Disney films such as Frozen, Peter Pan, Snow White and more.
3. Casey Jr is a two foot (610 mm) narrow gauge internal combustion powered railroad designed by Arrow Development.
4. The sleigh style train cars were part of the King Arthur Carrousel before that attraction was modified to be all horses.
5. Actor Ray Templin provides the voice of the Ringmaster on the attraction.
Let's head off to ride the Casy Jr. Circus Train. Suzie is joining me today and after we ride will give ou our thoughts on this Disneyland Classic. This is a binaural recording so if you have headphones put them on now as we ride Disneyland's Casey Jr. Circus Train.
The attraction audio recorded for this episode is available exclusively to the Saturday Morning Media Patron Patron. Support the show and get fun Bonus content over at http://www.patreon.com/saturdaymorningmedia
Episode edited by Stephen Staver
FOLLOW US
https://www.instagram.com/attractionchecklist/
http://www.twitter.com/SaturdayMMedia 
https://plus.google.com/+Saturdaymorningmedia 
https://www.linkedin.com/company/saturday-morning-media
http://www.youtube.com/user/SaturdayMorningMedia?sub_confirmation=1
FOLLOW GRANT
http://www.MrGrant.com
http://www.twitter.com/toasterboy
https://instagram.com/throwingtoasters/
SOURCES:
https://disneyland.disney.go.com/attractions/disneyland/casey-jr-circus-train/
https://en.wikipedia.org/wiki/Casey_Jr._Circus_Train
https://disney.fandom.com/wiki/Casey_Jr._Circus_Train#Voice_Cast
Show ©2021 Saturday Morning Media/Grant Baciocco