Grizzly River Run – Disney California Adventure – Attraction Checklist #118
Podcast: Play in new window | Download (Duration: 17:34 — 24.5MB) | Embed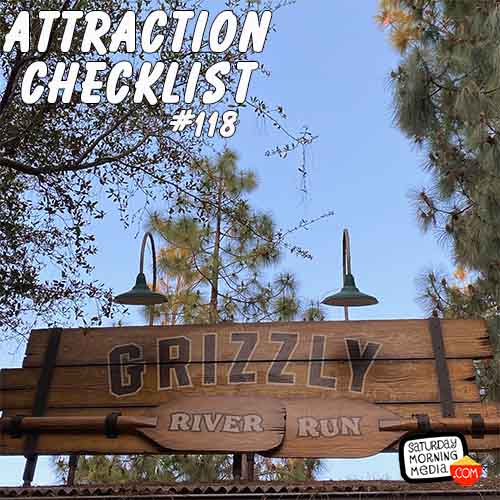 http://www.attractionchecklist.com – I hope you brought your rain slicker because we're heading to Disney California Adventure to ride Grizzly River Run on this episode of Attraction Checklist. Recorded on May 18, 2021.
TRANSCRIPT:
This episode we ride Grizzly River Run at Disney California Adventure. The Disneyland website describes this attraction by saying: Embark on a thrilling whitewater raft adventure that splashes you down a roaring California river deep in the mountains. Guests must be 42" or taller in order to ride and the Thrill Level describes the attraction as being a Thrill and Water ride that features small drops and spinning.
Before we hit the rapids, here are five fast facts about Grizzly River Run.
1. Grizzly River Run is a Disney California Adventure opening Day attraction. It opened with the park on February 8, 2000.
2. There are a total of 32 rafts on this attraction and each raft can hold up to 8 people.
3. Grizzly River Run's rafts are designed to spin as they hit the drops on the attraction especially the ride's big drop which is 21' tall.
4. The legend of Grizzly Peak, which the attraction is built around, is that a giant Bear named Oo-soo'-ma-te was turned to stone by A-ha-le the Coyote to watch and protect the mountain. It is Oo-soo'-ma-te's growl you hear as you ride the ride.
5. In 2019, the safety spiel was updated and voiced by the Disney animated character J. Audubon Woodlore, with Jeff Bennet providing his voice.
Well, I've put the recorder in a plastic bag and I'm ready to ride Grizzly River Run. After the ride, I'll give you my thoughts on this attraction and this is a binaural recording so if you have headphones put them on now. This is Grizzly River Run at Disney California Adventure.
The attraction audio recorded for this episode is available exclusively to the Saturday Morning Media Patron Patron. Support the show and get fun Bonus content over at http://www.patreon.com/saturdaymorningmedia
Episode edited by Stephen Staver
FOLLOW US
http://www.facebook.com/attractionchecklist
http://www.facebook.com/saturdaymorningmedia
http://www.twitter.com/SaturdayMMedia
https://plus.google.com/+Saturdaymorningmedia
https://www.linkedin.com/company/saturday-morning-media
http://www.youtube.com/user/SaturdayMorningMedia?sub_confirmation=1
FOLLOW GRANT
http://www.MrGrant.com
http://www.twitter.com/toasterboy
https://instagram.com/throwingtoasters/
SOURCES:
https://disneyland.disney.go.com/attractions/disney-california-adventure/grizzly-river-run/
https://en.wikipedia.org/wiki/Grizzly_River_Run
Show ©2021 Saturday Morning Media/Grant Baciocco