117 – Snow White's Enchanted Wish – Disneyland – Attraction Checklist
Podcast: Play in new window | Download (Duration: 9:39 — 13.7MB) | Embed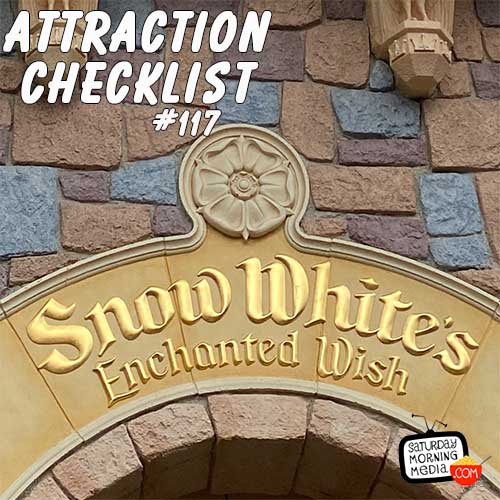 http://www.attractionchecklist.com – A classic Disneyland dark ride attraction got a revamp while the park was closed for the pandemic. Come along as we take a ride on the newly renamed Fantasyland Attraction, Snow White's Enchanted Wish. Recorded on May 18, 2021.
TRANSCRIPT:
This episode we head back to Disneyland after over a year to experience the newly updated Snow White's Enchanted wish! The Disneyland website describes this attraction by saying: Embark on a magical ride into memorable scenes from Snow White and the Seven Dwarfs. There are no age or height requirements for this attraction and the thrill level describes it as being a slow ride that is dark and loud.
Before we head off to the forest, here are five fast facts about Snow White's Enchanted Wish
1. On January 7, 2020, Disney closed the attraction Snow White's Scary Adventures (which we rode in episode 18) for an extended refurbishment. On December 3, 2020, it was announced that the attraction would reopen with the new name Snow White's Enchanted Wish. And on April 30, 2021, the attraction opens when Disneyland was allowed to reopen after being closed due to the pandemic.
2. The revamped attraction now features animated projections taken directly from the original Snow White film.
3. While there were always animals featured in the attraction, Imagineering added more than three dozen animals during this refurbishment. Squirrels, Rabbits, Deer, Birds and, of course, a raven, can be spotted as guests move through the ride. There are more birds in the attraction than any other kind of animal.
4. In order to create some of the figures for the attraction, Disney brought back veteran sculptor Theresa Miller to sculpt some of the Dwarves faces and animals for the reimagined attraction.
5. In addition to new LED lighting, projection mapping and new animated figures, Snow White's Enchanted Wish also features a few smells as guests move through the attraction.
Let's see if Snow White's wish comes true as we ride Disneyland's Snow White's Enchanted wish. After the ride I'll give you my thoughts on this update to a classic attraction and this is a binaural recording so if you have headphones put them on now as we ride Snow White's Enchanted Wish at Disneyland.
The attraction audio recorded for this episode is available exclusively to the Saturday Morning Media Patron Patron. Support the show and get fun Bonus content over at http://www.patreon.com/saturdaymorningmedia
Episode edited by Stephen Staver
FOLLOW US
http://www.facebook.com/attractionchecklist
http://www.facebook.com/saturdaymorningmedia
http://www.twitter.com/SaturdayMMedia
https://plus.google.com/+Saturdaymorningmedia
https://www.linkedin.com/company/saturday-morning-media
http://www.youtube.com/user/SaturdayMorningMedia?sub_confirmation=1
FOLLOW GRANT
http://www.MrGrant.com
http://www.twitter.com/toasterboy
https://instagram.com/throwingtoasters/
SOURCES:
https://disneyland.disney.go.com/attractions/disneyland/snow-whites-enchanted-wish/
https://en.wikipedia.org/wiki/Snow_White%27s_Enchanted_Wish#cite_note-15
https://www.themeparkinsider.com/flume/202104/8163/
Show ©2021 Saturday Morning Media/Grant Baciocco