Mad Tea Party – Magic Kingdom – Attraction Checklist #116
Podcast: Play in new window | Download (Duration: 10:37 — 14.7MB) | Embed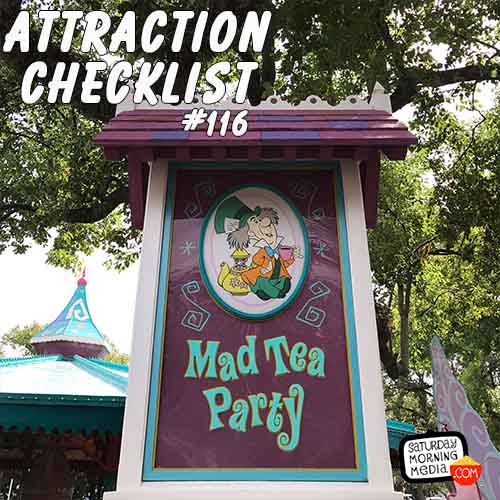 http://www.attractionchecklist.com – To spin or not to spin, that is the question as we head to Walt Disney World to ride Magic Kingdom's Mad Tea Party on this episode of Attraction Checklist! Recorded on October 29, 2016.
TRANSCRIPT:
Let's spin on over to Magic Kingdom to ride Mad Tea Party. The guide map describes this attraction by saying: Spin around and around in a giant teacup. There are no age or height requirements for this attraction and the Thrill level correctly describes it as a spinning ride.
We covered the Halloweenified version of this attraction in episode #104, but since this is the regular version, here are a few more facts about Mad Tea Party.
1. A ride on Mad Tea Party lasts one minute and thirty seconds. Though it may seem longer to those who get motion sick.
2. The patterns on the tea cups were originally designed by Imagineer Mary Blair.
3. Versions of Mad Tea Party can be found in all the Disney Parks around the world with the exception of Shanghai Disneyland. But they have a similar attraction themed around Winnie the Pooh.
4. Despite the rumors, the purple teacup does not spin faster than the others.
5. Right outside Mad Tea Party is a leaf shaped plaque with a quote that reads "Be good at something, it makes you valuable…Have something to bring to the table, because that will make you more welcome." It's a quote by Randy Pausch who was Carnegie Mellon Professor, an imagineer and had a viral video hit with his Ted Talk called The Last Lecture. Watch the lecture here: https://youtu.be/j7zzQpvoYcQ
Let's go ride Mad Tea Party. After the ride, I'll give you my thoughts on this attraction and this is a binaural recording so if you have headphones put them on now. That should make the spinning fun as we ride Mad Tea Party at Walt Disney World's Magic Kingdom.
The attraction audio recorded for this episode is available exclusively to the Saturday Morning Media Patron Patron. Support the show and get fun Bonus content over at http://www.patreon.com/saturdaymorningmedia
Episode edited by Stephen Staver
FOLLOW US
http://www.facebook.com/attractionchecklist
http://www.facebook.com/saturdaymorningmedia
http://www.twitter.com/SaturdayMMedia
https://plus.google.com/+Saturdaymorningmedia
https://www.linkedin.com/company/saturday-morning-media
http://www.youtube.com/user/SaturdayMorningMedia?sub_confirmation=1
FOLLOW GRANT
http://www.MrGrant.com
http://www.twitter.com/toasterboy
https://instagram.com/throwingtoasters/
SOURCES:
https://disneyworld.disney.go.com/attractions/magic-kingdom/mad-tea-party/
https://en.wikipedia.org/wiki/Mad_Tea_Party
https://www.mentalfloss.com/article/83074/10-head-spinning-facts-about-disneys-mad-tea-party-ride
Show ©2021 Saturday Morning Media/Grant Baciocco