"it's a small world" – Magic Kingdom – Attraction Checklist #114
Podcast: Play in new window | Download (Duration: 19:32 — 26.9MB) | Embed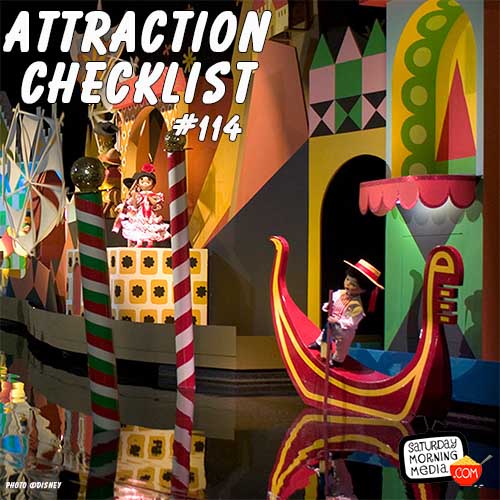 http://www.attractionchecklist.com – This episode we venture to Magic Kingdom to ride the east coast's version of "it's a small world." Recorded on October 26, 2016.
TRANSCRIPT:
Welcome to Attraction Checklist.
Time has come to answer the age old question…it is a Small World After All? And to help us figure out the answer we're going to head to Magic Kingdom in Walt Disney World to ride "it's a small world."
The guide map describes this attraction saying: Take a boat tour Around the globe. There are no age or height requirements for this attraction and the thrill level accurately describes it as a slow ride. Fast Pass plus is available for this attraction.
Before we set sail, here are 5 fast facts about "it's a small world" at Magic Kingdom.
1. "It's a small world" is an opening day attraction, opening with the park on October 1, 1971.
2. The Magic Kingdom version of "it's a small world" differs from other incarnations of the same attraction around the world by having it's queue area, including the clock face facade, completely housed in the show building.
3. As you travel through the attraction, you will hear the Sherman Brothers Song "It's A Small World" sung in 5 different languages.
4. "The song, "It's A Small World" was sung for the attraction by a church choir in London, a school chorus in Rome, Italy, TV performers in Mexico City and kids from Tokyo and Burbank, California.
5. The ride features almost 300 Audio-Animatronic dolls. Except for skin tone, eye and hair color and clothing, the dolls faces are all exactly the same.
Let's go ride "it's a small world." After we ride, I'll give you my thoughts on this attraction and this is a binaural recording so if you have headphones put them on now as we ride "it's a small world" at Walt Disney World's Magic Kingdom.
The attraction audio recorded for this episode is available exclusively to the Saturday Morning Media Patron Patron. Support the show and get fun Bonus content over at http://www.patreon.com/saturdaymorningmedia
Episode edited by Stephen Staver
FOLLOW US
http://www.facebook.com/attractionchecklist
http://www.facebook.com/saturdaymorningmedia
http://www.twitter.com/SaturdayMMedia
https://plus.google.com/+Saturdaymorningmedia
https://www.linkedin.com/company/saturday-morning-media
http://www.youtube.com/user/SaturdayMorningMedia?sub_confirmation=1
FOLLOW GRANT
http://www.MrGrant.com
http://www.twitter.com/toasterboy
https://instagram.com/throwingtoasters/
SOURCES:
https://disneyworld.disney.go.com/attractions/magic-kingdom/its-a-small-world/
https://en.wikipedia.org/wiki/It%27s_a_Small_World#Magic_Kingdom
Show ©2021 Saturday Morning Media/Grant Baciocco