Living With The Land 2019 Update – Epcot – Attraction Checklist #111
Podcast: Play in new window | Download (Duration: 23:08 — 31.9MB) | Embed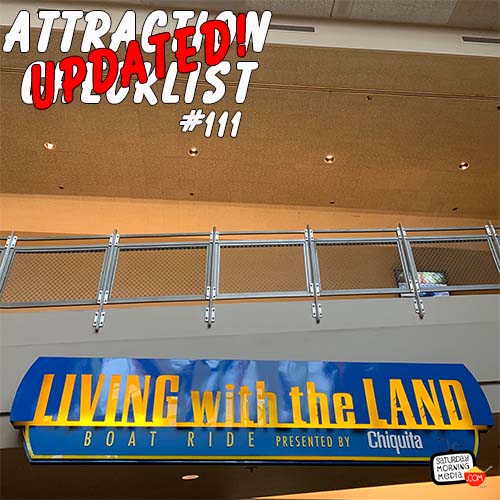 http://www.attractionchecklist.com – Let's head back to Epcot to revisit Living With The Land that received some upgrades since we last rode! Recorded on August 16, 2019.
TRANSCRIPT:
This episode we check out an updated attraction that we've been on before. Back in episode #42, we rode Living with the Land at Epcot's Land Pavilion. In august 2019, the attraction received a few updates.
There aren't really 5 new fast facts I can tell you about the attraction except that in August of 2019 the theater section of the attraction, where you go through the barn, is now sporting all new HD video and a slightly different narration which you will hear in this episode.
Also, starting in 2019, the attraction received a holiday overlay as part of Epcot's Festival of the Holidays. This overlay called Merry and Bright Nights at Living with the Land, features twinkling lights and fun holiday decorations spread throughout the Living with the land attraction. We'll have to go back sometime and record that version as well.
For now, here's the 2019 update to Living with the Land. After the attraction audio, I'll give you my thoughts on this attraction. This is a binaural recording so if you have headphones put them on now as we ride the 2019 update to Epcot's Living With The Land.
The attraction audio recorded for this episode is available exclusively to the Saturday Morning Media Patron Patron. Support the show and get fun Bonus content over at http://www.patreon.com/saturdaymorningmedia
Episode edited by Stephen Staver
FOLLOW US
http://www.facebook.com/attractionchecklist
http://www.facebook.com/saturdaymorningmedia
http://www.twitter.com/SaturdayMMedia
https://plus.google.com/+Saturdaymorningmedia
https://www.linkedin.com/company/saturday-morning-media
http://www.youtube.com/user/SaturdayMorningMedia?sub_confirmation=1
FOLLOW GRANT
http://www.MrGrant.com
http://www.twitter.com/toasterboy
https://instagram.com/throwingtoasters/
SOURCES:
None.
Show ©2021 Saturday Morning Media/Grant Baciocco