Reflections of China – Epcot – Attraction Checklist #106
Podcast: Play in new window | Download (Duration: 18:48 — 25.9MB) | Embed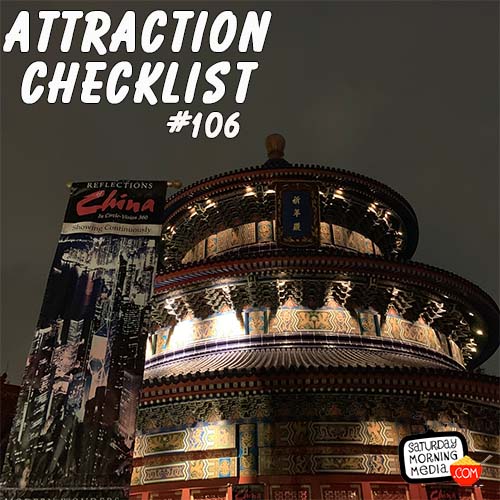 http://www.attractionchecklist.com – This episode we visit World Showcase in Epcot to check out the Circle-Vision 360 classic, Reflections of China. Recorded on March 19, 2019.
TRANSCRIPT:
Welcome to Attraction Checklist.
This episode we visit the China Pavilion in Epcot's World Showcase to check out the Circle-VIsion 360 classic Reflections of China.
The guide map describes this attraction saying: View the world's most populous country in this Circle-VIsion 360 film.
Since this is a film experience, there are no age or height requirements, nor is there a Thrill Level listed.
Before we get a 360 degree view of the Great Wall Of China, here are five fast facts about Reflections of China!
1. Reflections of China is the second Circle-Vision 360 film to play in the China Pavillion. The first, Wonders of China, opened with EPCOT on October 1, 1982. The film ran until March 25, 2003. Reflections of China premiered on May 22, 2003.
2. Reflections of China combines footage from the original film, Wonders of China with brand new footage shot for this film.
3. Reflections of China is housed in a replica of the Hall of Prayer for Good Harvests, which was originally constructed near Beijing in the early fifteenth century
4. Reflections of China is directed by Jeff Blythe who directed the original Wonders of China film.
5. On August 25, 2019, it was announced that Reflections of China would be replaced with a brand new film called Wonderous China. Due to the global pandemic, this has not yet happened as of this recording in November of 2020. No word on when or if the replacement will take place.
And now let's experience Reflections of China. After the audio, I'll give you my thoughts on this attraction. This is a binaural recording so if you have headphones put them on now as we visit Reflections of China at Epcot.
The attraction audio recorded for this episode is available exclusively to the Saturday Morning Media Patron Patron. Support the show and get fun Bonus content over at http://www.patreon.com/saturdaymorningmedia
Episode edited by Stephen Staver
FOLLOW US
http://www.facebook.com/attractionchecklist
http://www.facebook.com/saturdaymorningmedia
http://www.twitter.com/SaturdayMMedia
https://plus.google.com/+Saturdaymorningmedia
https://www.linkedin.com/company/saturday-morning-media
http://www.youtube.com/user/SaturdayMorningMedia?sub_confirmation=1
FOLLOW GRANT
http://www.MrGrant.com
http://www.twitter.com/toasterboy
https://instagram.com/throwingtoasters/
SOURCES:
https://en.wikipedia.org/wiki/Reflections_of_China
https://disneyworld.disney.go.com/attractions/epcot/reflections-of-china/
http://themickeywiki.com/index.php?title=Reflections_of_China&redirect=no
Show ©2020 Saturday Morning Media/Grant Baciocco