Mickey's Not So Scary Mad Tea Party – Magic Kingdom – Attraction Checklist #104
Podcast: Play in new window | Download (Duration: 8:43 — 12.1MB) | Embed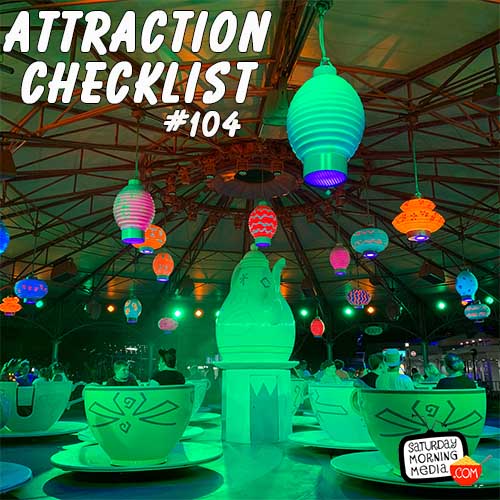 http://www.attractionchecklist.com – Join Grant as he checks out the Mad Tea Party overlay during Mickey's Not So Scary Halloween Party at Magic Kingdom. Recorded on August 16, 2019.
TRANSCRIPT:
Welcome to Attraction Checklist.
Halloween is fast approaching so it's only right we take a spin on a Magic Kingdom attraction that receives a bit of an overlay for Mickey's Not So Scary Halloween Party, Fantasyland's Mad Tea Party.
The guide map describes this attraction by saying: Spin 'round and 'round in a giant teacup.
There are no age or height requirements for this attraction and the Thrill Level correctly labels it a Spinning ride.
Mad Tea Party receives an overlay of lights and music during Mickey's Not So Scary Halloween Party. Because there aren't many more facts about the overlay than that, here are five fast facts about the ride as a whole.
1. The Mad Tea Party is a Magic Kingdom opening day attraction, opening with the park on October 1, 1971.
2. The Mad Tea Party features 18 tea cups for guests to ride in.
3. The teacups are divide up on three spinning turntables that rotate clockwise. Each of these smaller turntables are sitting on one giant turntable that rotates counter clockwise.
4. Keep a close eye on the giant teapot in the center of the attraction. You may just see the Doormouse from Alice in Wonderland pop out of the top of it. The teapot and dormouse were added to the attraction when it got its canopy covering in 1973.
5. In 2018, Mad Tea Party received its Not So Scary Overlay which features spooky music and smoke and lighting effects making for a fun experience at night.
Let's go ride Mad Tea Party at Mickey's Not So Scary! This is a binaural recording, so if If you have headphones, put them on now as that is sure to make the spinning extra fun as we check out the Mickey's Not So Scary Halloween Party version of Mad Tea Party at Magic Kingdom in Walt Disney World!
The attraction audio recorded for this episode is available exclusively to the Saturday Morning Media Patron Patron. Support the show and get fun Bonus content over at http://www.patreon.com/saturdaymorningmedia
Episode edited by Stephen Staver
FOLLOW US
http://www.facebook.com/attractionchecklist
http://www.facebook.com/saturdaymorningmedia
http://www.twitter.com/SaturdayMMedia
https://plus.google.com/+Saturdaymorningmedia
https://www.linkedin.com/company/saturday-morning-media
http://www.youtube.com/user/SaturdayMorningMedia?sub_confirmation=1
FOLLOW GRANT
http://www.MrGrant.com
http://www.twitter.com/toasterboy
https://instagram.com/throwingtoasters/
SOURCES:
https://disneyworld.disney.go.com/attractions/magic-kingdom/mad-tea-party/
https://en.wikipedia.org/wiki/Mad_Tea_Party#Magic_Kingdom
Show ©2020 Saturday Morning Media/Grant Baciocco