Toy Story Midway Mania! – Disney California Adventure – Attraction Checklist #101
Podcast: Play in new window | Download (Duration: 13:54 — 19.2MB) | Embed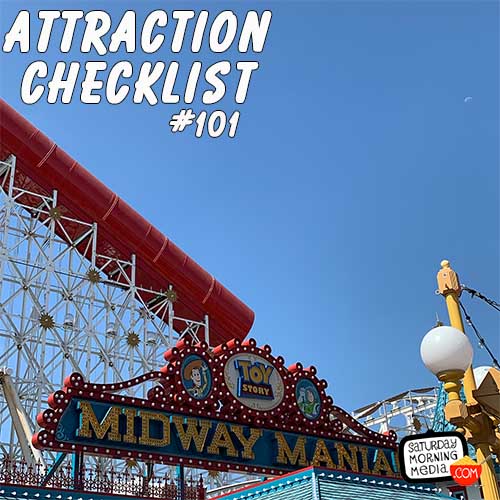 http://www.attractionchecklist.com – Grant and John head to Disney California Adventure to ride and review Toy Story Midway Mania! Who will come away with the high score? Recorded on August 23, 2019.
TRANSCRIPT:
Welcome to Attraction Checklist.
This episode we try our luck at the West Coast Version of Toy Story Midway Mania at Disney California Adventure.
The Disneyland Resort website describes this attraction saying: Zip through an exhilarating 4D midway-style game starring Toy Story characters—and blast away!
There are no age or height requirements for this attraction and Thrill Level describes the attraction as being Dark and Loud. FastPass is available for this attraction.
Before we head to the midway, here are five fast facts about Toy Story Midway Mania at Disney California Adventure.
1. Toy Story Midway Mania opened at Disney California Adventure on June 17, 2008.
2. It has been reported that it cost an estimated $80 Million dollars to design and build and it was the Walt Disney Company's first use of industrial ethernet for a ride's control system.
3. The attraction uses more than 150 computers to control guest's experiences in the attraction.
4. Because the actual games are software controlled, they can be swapped out. One such change took place on May 21, 2010 when characters from Toy Story 3 were added to the ride.
5. Music for the queue area was arranged and recorded by Jennifer Hammond at Capital records.
Now let's go see if we can get the high score on Toy Story Midway Mania. Along for the ride is my arch nemesis on this attraction, John B. deHaas and after we ride we'll discuss our thoughts on this ride. This is a binaural recording so if you have headphones put them on now as we ride Toy Story Midway Mania! At Disney California Adventure!
The attraction audio recorded for this episode is available exclusively to the Saturday Morning Media Patron Patron. Support the show and get fun Bonus content over at http://www.patreon.com/saturdaymorningmedia
Episode edited by Stephen Staver
FOLLOW US
http://www.facebook.com/attractionchecklist
http://www.facebook.com/saturdaymorningmedia
http://www.twitter.com/SaturdayMMedia
https://plus.google.com/+Saturdaymorningmedia
https://www.linkedin.com/company/saturday-morning-media
http://www.youtube.com/user/SaturdayMorningMedia?sub_confirmation=1
FOLLOW GRANT
http://www.MrGrant.com
http://www.twitter.com/toasterboy
https://instagram.com/throwingtoasters/
SOURCES:
https://disneyland.disney.go.com/attractions/disney-california-adventure/toy-story-mania/
https://en.wikipedia.org/wiki/Toy_Story_Midway_Mania!
Show ©2020 Saturday Morning Media/Grant Baciocco