King Arthur Carrousel – DIsneyland – Attraction Checklist #100
Podcast: Play in new window | Download (Duration: 11:30 — 8.0MB) | Embed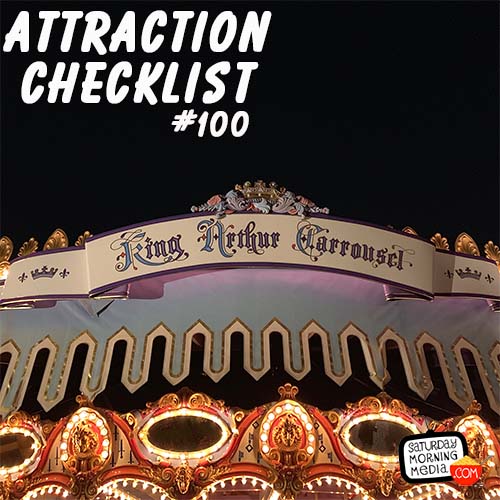 http://www.attractionchecklist.com – To celebrate 100 episodes, Suzie and I take a ride on King Arthur Carrousel at Disneyland! Recorded on February 7, 2019.
TRANSCRIPT:
Welcome to Attraction Checklist.
Before we start I just wanted to announce that this is the 100th episode of Attraction Checklist! The show started in June of 2016 and is showing no signs of stopping.
I wanted to take a moment to thank a few people who've been instrumental in making the show what it is today. Big thanks to Justin Hilden who designed the show's incredible logo, Stephen Staver who edits our episodes and makes them sound good, Paul Barrie and the Window to the Magic podcast who inspired the show. And to our regular riders Suzie, Dave Marquez, Tim Hinton and, of course John B. deHaas for knowing to be quiet while recording! And finally, a big thanks to you, the show's amazing listeners, for joining us for the ride! Here's to 100 more!
I know we were just at Disneyland and I know we were just in Fantasyland but this is the 100th episode so I thought a Disneyland, opening day attraction would be in order so we're going to take a spin on King Arthur Carrousel in Fantasyland at Disneyland.
The Disneyland Resort website describes this attraction by saying: Spin around and go up and down to joyous music atop a regal steed at this popular attraction inspired by the Knights of the Round Table.
There are no age or height requirements for this attraction and Thrill Level describes it as a Slow, Spinning Ride that is Loud.
Before we hop on a horse, here are five fast facts about King Arthur Carrousel at Disneyland.
1. King Arthur Carrousel is a Disneyland Opening Day attraction, opening with the park on July 17, 1955
2. King Arthur Carrousel is actually older than Disneyland! It was built in 1922 and operated at Sunnyside Beach in Toronto, Canada until that park closed. It was moved to Disneyland in 1954 when the park was under construction.
3. When the Carrousel was moved to Disneyland, it only had three rings of horses and Disney and Arrow Development added another ring of horses to increase guest capacity.
4. The ride features 3,328 shimmering lights to make the ride even more magical at nighttime!
5. Each horse on the Carousel has a name and a complete list of those names is available at City Hall on Main Street. The lead horse is named Jingles.
Let's go ride King Arthur Carousel. Along for the ride is Suzie and during our review we discuss the difference between Carrousel with two R's as it's spelled for this attraction and Carousel with one R as it's spelled elsewhere. The answer is, there's no difference they are both correct. This is a binaural recording so if you have headphones put them on now as celebrate 100 episodes by riding King Arthur Carrousel at Disneyland.
The attraction audio recorded for this episode is available exclusively to the Saturday Morning Media Patron Patron. Support the show and get fun Bonus content over at http://www.patreon.com/saturdaymorningmedia
Episode edited by Stephen Staver
FOLLOW US
http://www.facebook.com/attractionchecklist
http://www.facebook.com/saturdaymorningmedia
http://www.twitter.com/SaturdayMMedia
https://plus.google.com/+Saturdaymorningmedia
https://www.linkedin.com/company/saturday-morning-media
http://www.youtube.com/user/SaturdayMorningMedia?sub_confirmation=1
FOLLOW GRANT
http://www.MrGrant.com
http://www.twitter.com/toasterboy
https://instagram.com/throwingtoasters/
SOURCES:
https://en.wikipedia.org/wiki/King_Arthur_Carrousel
https://disneyland.disney.go.com/attractions/disneyland/king-arthur-carrousel/
Show ©2020 Saturday Morning Media/Grant Baciocco