Awesome Planet – Epcot – Attraction Checklist #98
Podcast: Play in new window | Download (Duration: 16:55 — 15.6MB) | Embed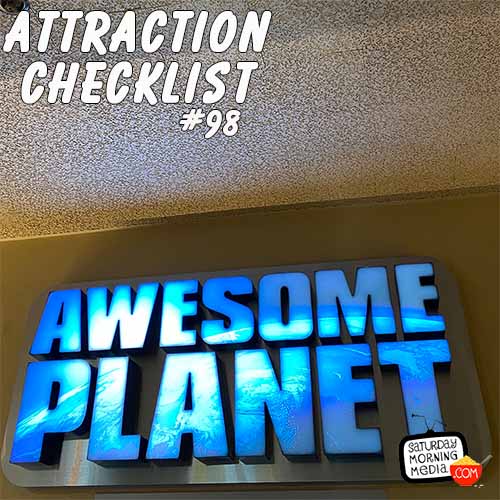 http://www.attractionchecklist.com – It's time to check out the third of the films that Epcot received in early 2020, Awesome Planet! Come along with Grant and John as they see this new film and give it a review. Recorded on January 16, 2020.
TRANSCRIPT:
Welcome to Attraction Checklist.
This episode we head back to Epcot to take in the third of the three new films that debuted at Epcot in 2020, Awesome Planet. The guide map describes Awesome Planet by saying: On-screen exploration of the realm we call home-showcasing the beauty, diversity and dynamic story of Earth. There are no height requirements for this attraction and, because it is a film there is no Thrill Level listed.
Before we see The Land's newest attraction, here are five fast facts about Awesome Planet.
1. In March of 2019, it was announced that Awesome Planet would become the new featured film at The Land Pavilion at Epcot. It would be shown in the same theater that Circle of Life: An Environmental Fable had been shown in which has stopped shows in February of 2018. Though there were some advanced previews, Awesome Planet officially opened on January 17, 2020.
2. While new footage was shot for Awesome Planet, the film also uses footage from several Disneynature documentaries including Earth, Oceans and Wings of Life. It also has space sequences designed by Industrial Light and Magic.
3. Awesome Planet is narrated by Modern Family star Ty Burrell.
4. The score for Awesome Planet was composed by Steven Price.
5. Not only did the theater in The Land receive a new film, it also received some new in-theater effects including lightning, wind, and mist.
Let's go see if Awesome Planet is awesome or not. Joining me today is John B deHaas and after the film we'll give you our thoughts on this new attraction. This is a binaural recording, so if If you have headphones, put them on now as we check out Awesome Planet at Epcot.
The attraction audio recorded for this episode is available exclusively to the Saturday Morning Media Patron Patron. Support the show and get fun Bonus content over at http://www.patreon.com/saturdaymorningmedia
Episode edited by Stephen Staver
FOLLOW US
http://www.facebook.com/attractionchecklist
http://www.facebook.com/saturdaymorningmedia
http://www.twitter.com/SaturdayMMedia
https://plus.google.com/+Saturdaymorningmedia
https://www.linkedin.com/company/saturday-morning-media
http://www.youtube.com/user/SaturdayMorningMedia?sub_confirmation=1
FOLLOW GRANT
http://www.MrGrant.com
http://www.twitter.com/toasterboy
https://instagram.com/throwingtoasters/
SOURCES:
https://disneyworld.disney.go.com/attractions/epcot/the-land-awesome-planet/
Show ©2020 Saturday Morning Media/Grant Baciocco