Goofy's Sky School – Disney California Adventure – Attraction Checklist #97
Podcast: Play in new window | Download (Duration: 10:51 — 10.0MB) | Embed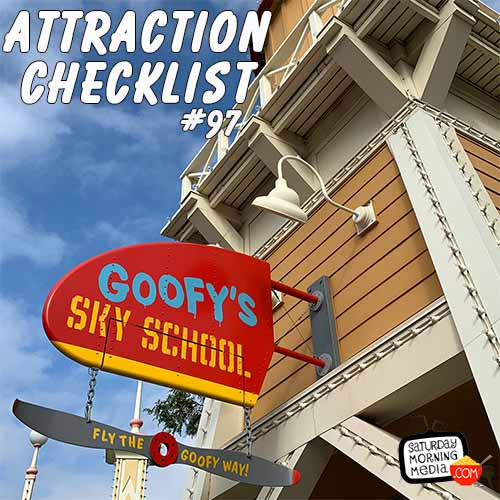 http://www.attractionchecklist.com – Join John B. deHaas and Grant as they visit Disney California Adventure to ride and review Goofy's Sky School! Recorded on August 23, 2019.
TRANSCRIPT:
Welcome to Attraction Checklist.
Last episode I mentioned the Disney California Adventure attraction Goofy's Sky School so I figured that's where we would visit this episode! The Disneyland website describes this roller coaster by saying: Soar high—and learn to fly the Goofy way—on this coaster-style attraction.
Guests must be 42" or taller to ride this attraction and the Thrill Level describes it as being a Thrill Ride with Small Drops and also cautions that it is loud.
Before we take off for the clouds, here are five fast facts about Goofy's Sky School at Disney California Adventure.
1. Before it was Goofy's Sky School, this attraction was known as Mulholland Madness and it opened on February 8, 2001. It was closed on October 12, 2010 to undergo its transformation into Goofy's Sky School.
2. The attraction re-opened as Goofy's Sky School on July 1, 2011.
3. This attraction is a wild mouse style roller coaster that was manufactured by coaster maker Mack Rides.
4. The thumbing of this attraction, Goofy teaching guests how to fly is based on the 1940 Disney Short film Goofy's Glider.
5. The ride takes guests to heights of 55 feet at its highest point and speeds of 27 miles per hour as their cars travel the 1,200 feet of track.
Well let's go take out flying lesson at Goofy's Sky School. My co-pilot this episode is John B. deHaas and after we ride we'll give you our thoughts on this attraction. This is a binaural recording so if you have headphones put them on now as we ride Goofy's Sky School at Disney California Adventure!
The attraction audio recorded for this episode is available exclusively to the Saturday Morning Media Patron Patron. Support the show and get fun Bonus content over at http://www.patreon.com/saturdaymorningmedia
Episode edited by Stephen Staver
FOLLOW US
http://www.facebook.com/attractionchecklist
http://www.facebook.com/saturdaymorningmedia
http://www.twitter.com/SaturdayMMedia
https://plus.google.com/+Saturdaymorningmedia
https://www.linkedin.com/company/saturday-morning-media
http://www.youtube.com/user/SaturdayMorningMedia?sub_confirmation=1
FOLLOW GRANT
http://www.MrGrant.com
http://www.twitter.com/toasterboy
https://instagram.com/throwingtoasters/
SOURCES:
https://disneyland.disney.go.com/attractions/disney-california-adventure/goofys-sky-school/
https://en.wikipedia.org/wiki/Goofy%27s_Sky_School
Show ©2020 Saturday Morning Media/Grant Baciocco