Epcot Forever – Epcot – Attraction Checklist #94
Podcast: Play in new window | Download (Duration: 18:57 — 17.4MB) | Embed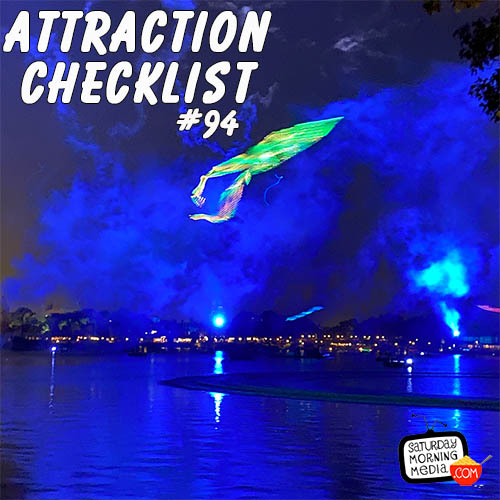 http://www.attractionchecklist.com – This episode John and I take in the Epcot's new Nighttime Spectacular – Epcot Forever! Filled with nostalgia, will this get a high rating? Tune in and find out! Recorded on January 13, 2020.
TRANSCRIPT:
Welcome to Attraction Checklist.
Let's head to Walt Disney World's Epcot tp see the new, temporary, Nighttime Spectacular Epcot Forever. The guide map describes the show by saying, "Journey through the past, present and future of Epcot at this fireworks spectacular.' Since this is a show there are no height requirements for it and FastPass+ is available.
1. In September 2018, it was announced that Illuminations: Reflections of Earth would be having its final run at Epcot before a new show debuts in 2020. It was also announced that a temporary nighttime spectacular called Epcot Forever would bridge the gap between Illuminations and the new show. Illuminations Reflections of Earth, which we covered on episode 83 of Attraction Checklist, closed forever on September 20, 2019. Epcot Forever debuted the very next night, on Epcot's anniversary, October 1, 2019.
2. Epcot Forever features all new arrangements of classic Epcot songs by conductor and composer Don Harper.
3. The score for Epcot Forever which includes classic songs like 'One Little Spark', "Living With The Land" and "Veggie Veggie, Fruit Fruit' was recorded by a full orchestra at Abbey Road Studios in London, England.
4. Epcot Forever features fireworks, lasers and lights, just as Illuminations did but also adds in what Disney calls 'special effects' kites. Large kites with light up tails that are pulled through the air by jet skis on the World Showcase Lagoon.
5. Epcot Forever is scheduled to have its final performance sometime in 2020.
Let's go experience Epcot Forever. With me this time is John B. deHaas and after the show we'll give you our thoughts on it. This is a binaural recording so if you have headphones put them on now as we head to Walt Disney World to see Epcot Forever at Epcot!
The attraction audio recorded for this episode is available exclusively to the Saturday Morning Media Patron Patron. Support the show and get fun Bonus content over at http://www.patreon.com/saturdaymorningmedia
Episode edited by Stephen Staver
FOLLOW US
http://www.facebook.com/attractionchecklist
http://www.facebook.com/saturdaymorningmedia
http://www.twitter.com/SaturdayMMedia
https://plus.google.com/+Saturdaymorningmedia
https://www.linkedin.com/company/saturday-morning-media
http://www.youtube.com/user/SaturdayMorningMedia?sub_confirmation=1
FOLLOW GRANT
http://www.MrGrant.com
http://www.twitter.com/toasterboy
https://instagram.com/throwingtoasters/
SOURCES:
https://disneyworld.disney.go.com/entertainment/epcot/epcot-forever/
https://en.wikipedia.org/wiki/Epcot_Forever
Show ©2020 Saturday Morning Media/Grant Baciocco