Canada Far and Wide in Circle-Vision 360 – Epcot – Attraction Checklist #93
Podcast: Play in new window | Download (Duration: 19:25 — 17.9MB) | Embed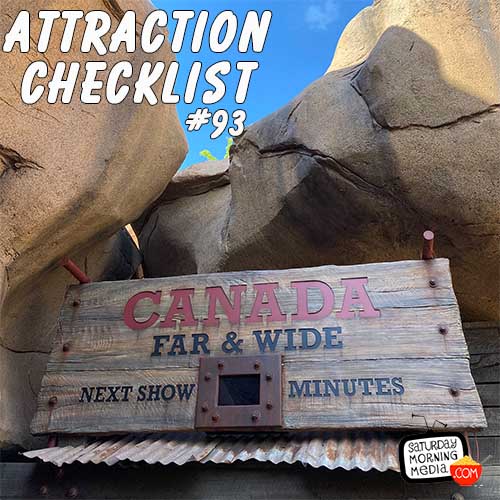 http://www.attractionchecklist.com – Grant and John head back to Epcot to see the new Circle-Vision 360 film Canada Far and Wide starring Catherine O'Hara and Eugene Levy. Recorded on January 16, 2020.
TRANSCRIPT:
Welcome to Attraction Checklist.
This episode we venture back to World Showcase in Epcot to check out the new film Canada – Far and Wide. The guide map says: Explore Canada in an updated edition of the classic Epcot Circle-Vision 360 film.
There are no age or height requirements for this attraction and no Thrill Level listed as well.
And now, before we experience the new film, here are five fast facts about Canada Far and Wide.
1. On November 17, 2018, it was announced that the Circle-Vision 360 film playing in the Canada Pavilion, called O'Canada, would be updated as part of the major overhaul of Epcot. Though there were previous in the days before, the film officially debuted on January 17, 2020.
2. While Martin Short did not reprise his role as narrator for the new film, Disney didn't search Far and Wide for his replacements! The new film is narrated by Short's SCTV Castmates, Catherine O'Hara and Eugene Levy!
3. The film features a brand new musical score by Canadian composer Andrew Lockington.
4. This attractions signature song, Canada (You're A Lifetime Journey) remains unchanged from the previous version, sung by Canadian Idol winner Eva Avilla.
5. Canada Far and Wide features newly shot 360 degree footage mixed with film from previous versions including the 1982, opening day version.
The attraction audio recorded for this episode is available exclusively to the Saturday Morning Media Patron Patron. Support the show and get fun Bonus content over at http://www.patreon.com/saturdaymorningmedia
Episode edited by Stephen Staver
FOLLOW US
http://www.facebook.com/attractionchecklist
http://www.facebook.com/saturdaymorningmedia
http://www.twitter.com/SaturdayMMedia
https://plus.google.com/+Saturdaymorningmedia
https://www.linkedin.com/company/saturday-morning-media
http://www.youtube.com/user/SaturdayMorningMedia?sub_confirmation=1
FOLLOW GRANT
http://www.MrGrant.com
http://www.twitter.com/toasterboy
https://instagram.com/throwingtoasters/
SOURCES:
https://disneyworld.disney.go.com/attractions/epcot/canada-far-and-wide/
https://en.wikipedia.org/wiki/Canada:_Far_and_Wide
Show ©2020 Saturday Morning Media/Grant Baciocco