Jessie's Critter Carousel – Disney California Adventure – Attraction Checklist #91
Podcast: Play in new window | Download (Duration: 11:53 — 11.0MB) | Embed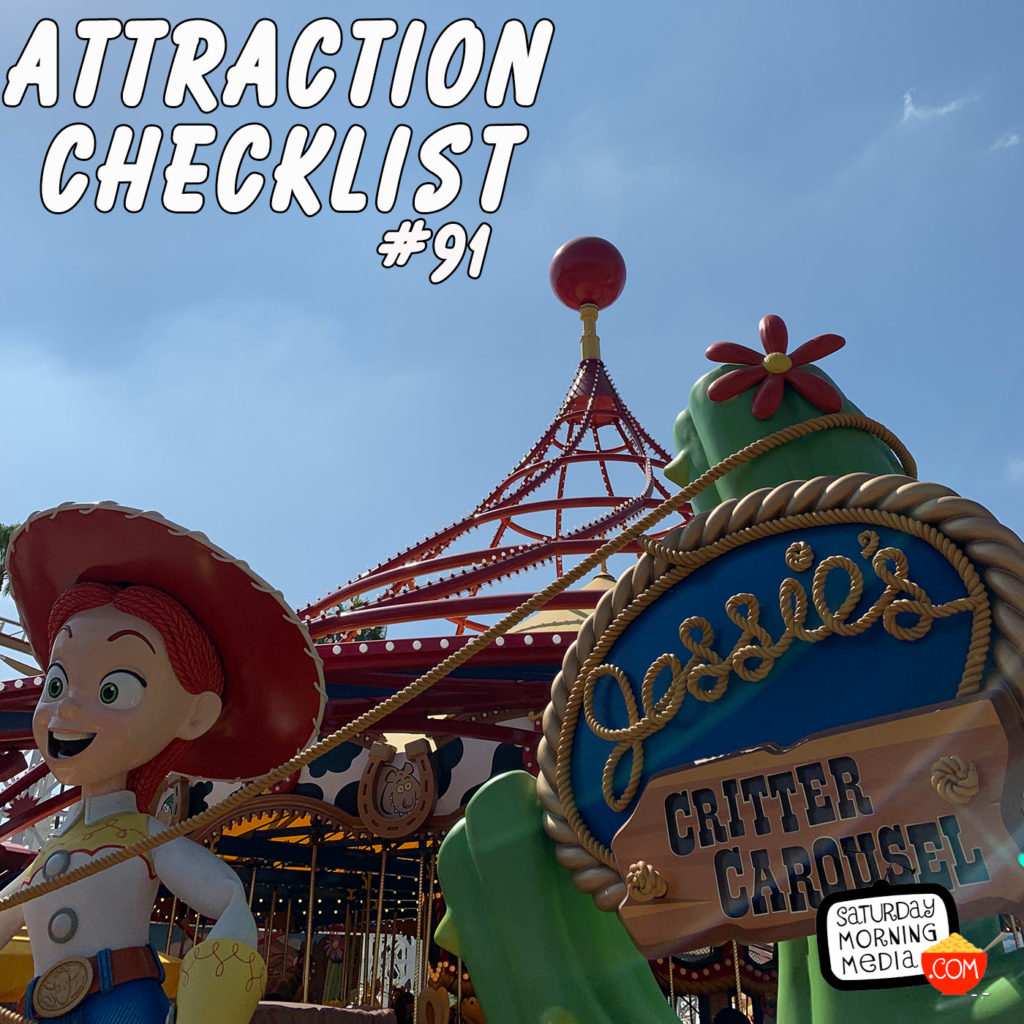 http://www.attractionchecklist.com – Join Grant Baciocco and John B. deHaas as they visit Disney California Adventure and ride and review Jessie's Critter Carousel! Recorded on August 23, 2019.
TRANSCRIPT:
Welcome to Attraction Checklist.
It's time to saddle up and head to Disney California Adventure to ride Jessie's Critter Carousel.  Located in the Pixar Pier section of the park, Jessie's Critter Carousel is described on the Disneyland Resort website by saying: Saddle up for a whimsical spin on Jessie's favorite critter pals from her wild west adventures—yee-haw!
There are no age or height requirements for this attraction and the Thrill level describes it as being a Slow spinning ride.
And now, before we ride, here are five fast facts about Jessie's Critter Carousel.
1.  On March 12, 2018, it was announced that King Triton's Carousel, which we profiled back in episode #39, would receive a complete makeover and become Jessie's Critter Carousel.  King Triton's Carousel closed on March 5, 2018 and Jessie's Critter Carousel opened officially on April 5, 2019.
2.  The attraction features 56 animals to rider on, all inspired by Jessie's wilderness friends from the "Woody's Roundup" television show from "Toy Story 2."  These animals include a turtles, snakes, buzzards and more including a backwards facing skunk!
3. The carousel features six musical tracks including the "Woody's Roundup Theme" and several other songs from the show within a show from Toy Story 2.  A brand new song, "Jessie Saves The Day" was written specifically for the attraction.
4.  The entrance of the attraction features a fun Toy Story Easter egg.  A larger than life Jessie can be seen lassoing a cactus with a red flower that holds the sign for the Carousel.  In early development for Toy Story 2, Jessie's character not going to be the doll for we know and love but was actually going to be an anthropomorphic cactus with a red flower!
5. The whimsical mural along a portion of the carousel features a fun Easter egg for Big Thunder Mountain.  A goat with a stick of dynamite in its mouth!
Let's rustle up some fun on Jessie's Critter Carousel.  Along for the round-up is John B. deHaas and after we ride we'll give you our thoughts on this attraction.  This is a binaural recording so if you have headphones but them on now as we ride Jessie's Critter Carousel at Disney California Adventure!
The attraction audio recorded for this episode is available exclusively to the Saturday Morning Media Patron Patron. Support the show and get fun Bonus content over at http://www.patreon.com/saturdaymorningmedia
Episode edited by Stephen Staver
FOLLOW US
http://www.facebook.com/attractionchecklist
http://www.facebook.com/saturdaymorningmedia
http://www.twitter.com/SaturdayMMedia
https://plus.google.com/+Saturdaymorningmedia
https://www.linkedin.com/company/saturday-morning-media
http://www.youtube.com/user/SaturdayMorningMedia?sub_confirmation=1
FOLLOW GRANT
http://www.MrGrant.com
http://www.twitter.com/toasterboy
https://instagram.com/throwingtoasters/
SOURCES:
https://disneyland.disney.go.com/attractions/disney-california-adventure/jessies-critter-carousel/
https://en.wikipedia.org/wiki/Jessie%27s_Critter_Carousel
Show ©2020 Saturday Morning Media/Grant Baciocco