Alice In Wonderland – Disneyland – Attraction Checklist #90
Podcast: Play in new window | Download (Duration: 11:21 — 10.5MB) | Embed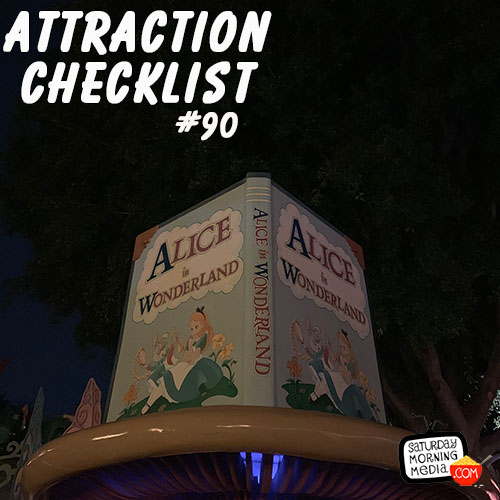 http://www.attractionchecklist.com – Join Grant Baciocco and Suzie as they go down the rabbit hole to ride and review Alice In Wonderland at Disneyland. Recorded on February 7, 2019.
TRANSCRIPT:
Welcome to Attraction Checklist.
Let's head over to Fantasyland in Disneyland to ride on one of the most popular attractions there, Alice in Wonderland. The Disneyland website describes this attraction by saying: Take a topsy-turvy trip into the nonsensical world of Disney's Alice in Wonderland aboard an oversized caterpillar. There are no height requirements for this attraction and the Thrill Level describes the ride as being a Slow Ride that is Dark and Loud.
Before we get lost down a rabbit hole, here are five fast facts about Disneyland's Alice in Wonderland.
1. An Alice in Wonderland walkthrough was originally planned for the opening of Disneyland but time and budgets got in the way. Three years later on June 14, 1958, the ride through Alice in Wonderland attraction opened at Disneyland.
2. Many people who worked on the Alice in Wonderland film, also worked on the attraction including Ken Anderson, Mary Blair Claude Coats and John Hench.
3. Alice in Wonderland was Disney's first ever two level ride through attraction with the majority of the action taking place on the ride's second floor above Mr. Toad's Wild Ride!
4. Disney Legend Kathryn Beaumont, the original voice for Alice in the film, reprised her role for several incarnations of this attraction.
5. In 2014, the attraction was given a technology update and now features projections of some of the animation from the film and new animation created just for the ride.
Now let's get small with Alice and ride Alice in Wonderland. Along for the adventure is Suzie and after we ride we'll give you out thoughts on this attraction. This is a binaural recording so if you have headphones put them on now as we ride Alice in Wonderland at Disneyland!
The attraction audio recorded for this episode is available exclusively to the Saturday Morning Media Patron Patron. Support the show and get fun Bonus content over at http://www.patreon.com/saturdaymorningmedia
Episode edited by Stephen Staver
FOLLOW US
http://www.facebook.com/attractionchecklist
http://www.facebook.com/saturdaymorningmedia
http://www.twitter.com/SaturdayMMedia
https://plus.google.com/+Saturdaymorningmedia
https://www.linkedin.com/company/saturday-morning-media
http://www.youtube.com/user/SaturdayMorningMedia?sub_confirmation=1
FOLLOW GRANT
http://www.MrGrant.com
http://www.twitter.com/toasterboy
https://instagram.com/throwingtoasters/
SOURCES:
https://disneyland.disney.go.com/attractions/disneyland/alice-in-wonderland/
https://en.wikipedia.org/wiki/Alice_in_Wonderland_(Disneyland_attraction)
https://d23.com/11-curious-facts-disneylands-alice-in-wonderland/
Show ©2020 Saturday Morning Media/Grant Baciocco