Star Wars: Rise of the Resistance – Disney's Hollywood Studios – Attraction Checklist #88
Podcast: Play in new window | Download (Duration: 30:49 — 28.3MB) | Embed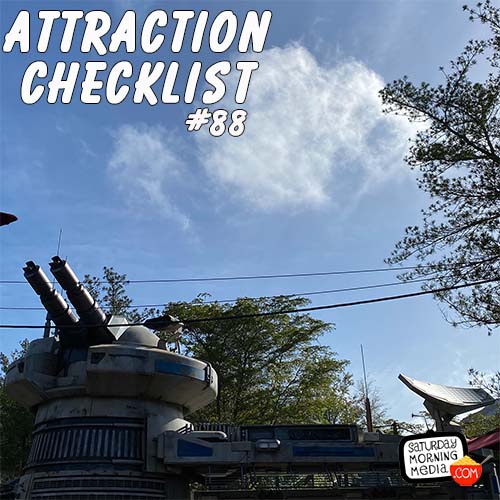 http://www.attractionchecklist.com – Join Grant Baciocco, John B. deHaas and Tim Hinton as they take their first ride on the experience that is Star Wars: Rise of the Resistance! Recorded on January 14, 2020.
TRANSCRIPT:
Welcome to Attraction Checklist.
The moment we have been waiting for is here! It's time to take off to Galaxy's Edge in Disney's Hollywood Studios to experience Star Wars: Rise of the Resistance! The guide map describes this attraction by saying: Find yourself in the middle of a battle between the First Order and Resistance. The Thrill Level describes this attraction as being Thrill Ride with small drops that is dark and loud. Guests must be 40" or taller to ride this attraction and, as of this recording, FastPass+ is not available.
Now before we ride this long awaited attraction, here are five fast facts about Star Wars: Rise of the Resistance!
1. Star Wars: Rise of the Resistance was announced at D23 in August of 2015, though it wasn't given its official name until November 17, 2018. The attraction officially opened at Disney's Hollywood Studios on December 5, 2019.
2. Executive Creative Director of Imagineering, John Larena, describes the ride as being a 360° attraction meaning that no matter where you look while on the ride, you'll be completely immersed in the world of Star Wars.
3. The storyline of the attraction places the adventure between the films Star Wars: The Last Jedi and Star Wars: Rise of the Skywalker.
4. Several familiar faces from the Star Wars films can be seen on this attraction including Rey, Finn, Poe, Kylo Ren and General Hux. But guests will also meet Lieutenant Bek who is a character developed just for this attraction. Bek is voiced by actor James Arnold Taylor who is no stranger to the world of Star Wars having voice doubled for Ewan McGragor's Obi Wan Kenobi in the Clone Wars TV series.
5. Star Wars: Rise of the Resistance is a combined Motion Simulator and trackless Dark Ride that has a whopping 18 minute duration! This experience is unlike any theme park ride ever created.
Okay, enough talk, let's ride Star Wars: Rise of the Resistance! Along for the adventure is John B. deHaas and Tim Hinton. We are all riding for the first time so after the Ride Audio we'll give you our initial thoughts moments after experiencing this attraction. This is a binaural recording so if you have headphones put them on now it's time for Star Wars: Rise of the Resistance!
The attraction audio recorded for this episode is available exclusively to the Saturday Morning Media Patron Patron. Support the show and get fun Bonus content over at http://www.patreon.com/saturdaymorningmedia
Episode edited by Stephen Staver
FOLLOW US
http://www.facebook.com/attractionchecklist
http://www.facebook.com/saturdaymorningmedia
http://www.twitter.com/SaturdayMMedia
https://plus.google.com/+Saturdaymorningmedia
https://www.linkedin.com/company/saturday-morning-media
http://www.youtube.com/user/SaturdayMorningMedia?sub_confirmation=1
FOLLOW GRANT
http://www.MrGrant.com
http://www.twitter.com/toasterboy
https://instagram.com/throwingtoasters/
SOURCES:
https://disneyworld.disney.go.com/attractions/hollywood-studios/star-wars-rise-of-the-resistance/
https://en.wikipedia.org/wiki/Star_Wars:_Rise_of_the_Resistance
Show ©2020 Saturday Morning Media/Grant Baciocco