It's Tough To Be A Bug – Disney's Animal Kingdom – Attraction Checklist #86
Podcast: Play in new window | Download (Duration: 16:27 — 15.2MB) | Embed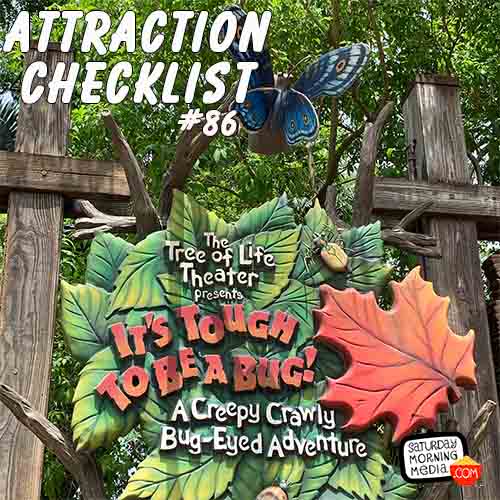 http://www.attractionchecklist.com – Join me as I head to Disney's Animal Kingdom to see It's Tough To Be A Bug! Recorded on August 18, 2019.
TRANSCRIPT:
Welcome to Attraction Checklist.
This episode we venture to Disney's Animal Kingdom to check out It's Tough To Be A Bug! The guide map says: Discover what it's like to be a bug in this 3D film inspired by the Disney/Pixar film, "A Bug's Life." And it adds "Some creepy-crawly moments in the dark." There are no age or height requirements for this attraction and the Thrill Level describes it as being dark, scary and loud! Before we shrink to the size of bugs, here are five fast facts about It's Tough To Be A Bug at Disney's Animal Kingdom.
1. It's Tough To Be A Bug is a Disney's Animal Kingdom opening day attraction, opening with the park on April 22, 1998.
2. While It's Tough To Be A Bug is based on the Disney/Pixar film A Bug's Life, the attraction opened a full 7 months before the film debuted in theaters!
3. The show features an impressive voice cast including Dave Foley as Flick, Cheech Marin as Chili the tarantula, Jason Alexander as Weevil Kneevil and A Bug's Life co-director Andrew Stanton as the show's bad guy, the menacing grasshopper Hopper!
4. The Tree of Life Theater that houses It's Tough To Be A Bug can accommodate up to 430 guests per show.
5. At the time the attraction opened, the audio-animatronic of Hopper the grasshopper was one of the most advanced audio-animatronic figures in the world. It features and incredible range of motion and even seems to hop into the theater at the start of his appearance.
Okay, let's buzz on over to Disney's Animal Kingdom to see It's Tough To Be A Bug! After the show I'll give you my thoughts on this attraction and this is a binaural recording so if you have headphones put them on now it's time to find out that It's Tough To Be A Bug!
The attraction audio recorded for this episode is available exclusively to the Saturday Morning Media Patron Patron. Support the show and get fun Bonus content over at http://www.patreon.com/saturdaymorningmedia
Episode edited by Stephen Staver
FOLLOW US
http://www.facebook.com/attractionchecklist
http://www.facebook.com/saturdaymorningmedia
http://www.twitter.com/SaturdayMMedia
https://plus.google.com/+Saturdaymorningmedia
https://www.linkedin.com/company/saturday-morning-media
http://www.youtube.com/user/SaturdayMorningMedia?sub_confirmation=1
FOLLOW GRANT
http://www.MrGrant.com
http://www.twitter.com/toasterboy
https://instagram.com/throwingtoasters/
SOURCES:

https://disneyworld.disney.go.com/attractions/animal-kingdom/its-tough-to-be-a-bug/
https://en.wikipedia.org/wiki/It%27s_Tough_to_Be_a_Bug!
Show ©2020 Saturday Morning Media/Grant Baciocco