Peter Pan's Flight – Disneyland – Attraction Checklist #85
Podcast: Play in new window | Download (Duration: 8:24 — 5.9MB) | Embed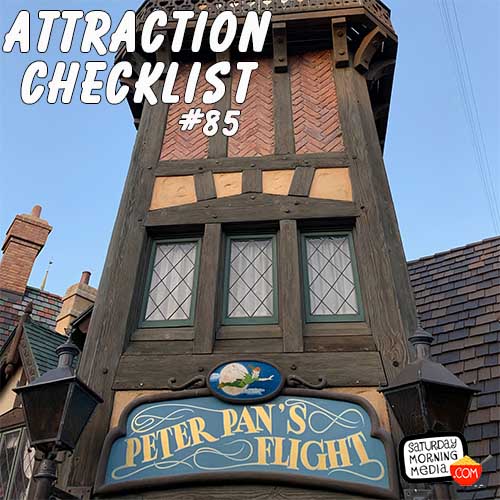 http://www.attractionchecklist.com – Join John B. deHaas and myself as we head to Disneyland to ride Peter Pan's Flight! Recorded on August 22, 2019.
TRANSCRIPT:
Welcome to Attraction Checklist.
This episode we visit Disneyland to ride one of the most iconic Fantasyland dark rides of all time, Peter Pan's Flight! The Disneyland website describes this attraction by saying, "Soar over London aboard an enchanted pirate ship to Never Land with the boy who wouldn't grow up." There are no age or height requirements for this attraction and the thrill level describes it as a Slow Ride that is Dark, Loud and has small drops. Before we get sprinkled with Pixie Dust, here are 5 fast facts about Peter Pan's Flight.
1. Peter Pan's Flight opened at Disneyland on the park's opening day, July 17, 1955.
2. Originally the attraction was meant to put the guests in the role of Peter Pan flying through the ride. Because of this Peter Pan didn't appear in the original attraction at all.
3. The ride received a major overhaul in 1983 that added many new elements and finally put Peter Pan in the attraction.
4. In 2015, the attraction closed for another major refurbishment and when it reopened, the attraction feature new animatronics and special effects including new projection mapping and fiber optics.
5. The Pirate Ships guests sit in use an OmniMover system to travel through the attraction. This is the same system as the one used in Haunted Mansion but flipped allowing the pirate ships to fly through the air.
Let's head for the second star on the right and ride Peter Pan's Flight. Along for the adventure is John B. deHaas and after the ride we'll give you our thoughts on this attraction. This is a binaural recording so if you have headphones put them on now as we race off to Peter Pan's Flight at Disneyland!
The attraction audio recorded for this episode is available exclusively to the Saturday Morning Media Patron Patron. Support the show and get fun Bonus content over at http://www.patreon.com/saturdaymorningmedia
Episode edited by Stephen Staver
FOLLOW US
http://www.facebook.com/attractionchecklist
http://www.facebook.com/saturdaymorningmedia
http://www.twitter.com/SaturdayMMedia
https://plus.google.com/+Saturdaymorningmedia
https://www.linkedin.com/company/saturday-morning-media
http://www.youtube.com/user/SaturdayMorningMedia?sub_confirmation=1
FOLLOW GRANT
http://www.MrGrant.com
http://www.twitter.com/toasterboy
https://instagram.com/throwingtoasters/
SOURCES:

https://disneyland.disney.go.com/attractions/disneyland/peter-pans-flight/
https://en.wikipedia.org/wiki/Peter_Pan%27s_Flight
Show ©2019 Saturday Morning Media/Grant Baciocco