Lightning McQueen's Racing Academy – Disney's Hollywood Studios – Attraction Checklist #84
Podcast: Play in new window | Download (Duration: 23:15 — 16.0MB) | Embed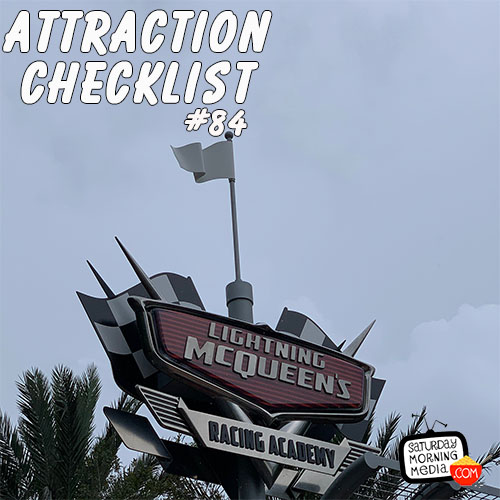 http://www.attractionchecklist.com – Start your engines! It's time to race off to Disney's Hollywood Studios to check out Lightning McQueen's Racing Academy. Recorded on August 16, 2019.
TRANSCRIPT:
Welcome to Attraction Checklist.
This episode we venture to Disney's Hollywood Studios to watch Lightening McQueen's Racing Academy. The Guidemap describes this attraction by saying: Get pumped for a high-octane experience where you'll learn what it takes to be a champion from the legendary racer, Lightning McQueen. Since this is a show, there are no age or height requirements for this attraction. Before we hear how Lightning McQueen stays in shape, here are five fast facts about Lighting McQueen's Racing Academy.
1. Lightning McQueen's Racing Academy was announced on the Disney Parks Blog on June 29, 2018 and had its debut performance less than a year later on March 31, 2019.
2. Prior to hosting Lightning McQueen, the building this attraction is in housed Club Disney an interactive dance party for families which debuted on December 5, 2015.
3. The giant wrap-around screen used in the show is 200 feet long and two stories high!
4. This attraction is, obviously, based on the Disney/Pixar Cars franchise, but an interesting bit of trivia is that elements from each of the three Cars films are featured in the show.
5. The Lightning McQueen animatronic featured in the show is very similar to the ones in Disney California Adventures Radiator Springs Racers. However this animatronic actually has the ability to completely turn around and face the simulator he's using.
Let's start our engines and check out Lighting McQueen's Racing Academy. After the show I'll give you my thoughts on this attraction and this is a binaural recording so if you have headphones put them on now as we race off to Lightning McQueen's Racing Academy at Disney's Hollywood Studios!
The attraction audio recorded for this episode is available exclusively to the Saturday Morning Media Patron Patron. Support the show and get fun Bonus content over at http://www.patreon.com/saturdaymorningmedia
Episode edited by Stephen Staver
FOLLOW US
http://www.facebook.com/attractionchecklist
http://www.facebook.com/saturdaymorningmedia
http://www.twitter.com/SaturdayMMedia
https://plus.google.com/+Saturdaymorningmedia
https://www.linkedin.com/company/saturday-morning-media
http://www.youtube.com/user/SaturdayMorningMedia?sub_confirmation=1
FOLLOW GRANT
http://www.MrGrant.com
http://www.twitter.com/toasterboy
https://instagram.com/throwingtoasters/
SOURCES:
https://disneyworld.disney.go.com/attractions/hollywood-studios/lightning-mcqueens-racing-academy/
https://en.wikipedia.org/wiki/Lightning_McQueen%27s_Racing_Academy
Show ©2019 Saturday Morning Media/Grant Baciocco