Roger Rabbit's Car Toon Spin – Disneyland – Attraction Checklist #82
Podcast: Play in new window | Download (Duration: 11:00 — 8.0MB) | Embed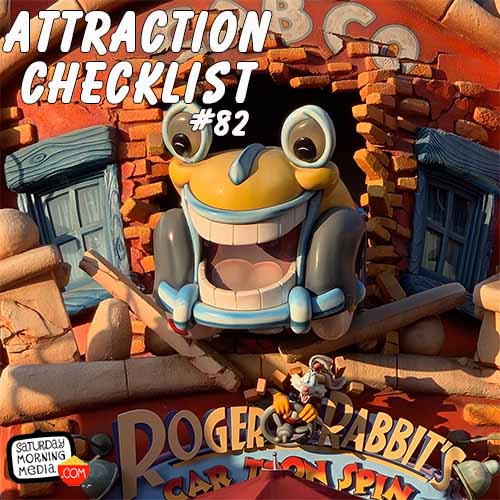 http://www.attractionchecklist.com – In this episode, John B. deHaas and I head to Disneyland's Toontown to ride and review Roger Rabbit's Car Toon Spin! Recorded on August 22, 2019.
TRANSCRIPT:
Welcome to Attraction Checklist.
It's time to head to the Toontown section of Disneyland to ride the zany dark-ride, Roger Rabbit's Car Toon Spin! The Disneyland website describes this attraction by saying, "Steer a runaway taxicab through the wacky streets of Toontown as you follow the adventures of Roger Rabbit." There are no age or height requirements and the Thrill Level describes this attraction as being a Spinning Slow Ride that is Dark and Loud. Fastpass is available for this attraction.
Before we head to the Toontown Cab Company, here are five fast facts about Roger Rabbit's Car Toon Spin at Disneyland!
1. Roger Rabbit's Car Toon Spin, an attraction based on the 1988 film Who Framed Roger Rabbit?, opened at Disneyland on January 26, 1994.
2. Many actors in the film's voice cast reprised their roles for this attraction. Most notably, Charles Fleischer as Roger Rabbit and the legendary June Foray as the weasel gang member Wheezy.
3. The queue area for this attraction was one of first totally immersive queue areas in a Disney Park and there are several hidden sight gags throughout. You can also peer into sections of the attraction while waiting in line giving you a preview of what's to come. Also see if you can decipher what each of the personalized license plates in the queue area spell out. It's a great way to pass the time.
4. Part dark ride, part spinning teacup, the Roger Rabbit's Car Toon Spin attraction features 17 Audio-Animatronics and close to 60 animated props.
5. One of the main features of this attraction is that your cab, Lenny, spins! But in keeping with the film, he doesn't spin until he hits the DIP poured out by the Weasels.
Now it's time to ride Roger Rabbit's Car Toon Spin. Along with me for the ride is John B. deHaas. On the day we rode we had fast passes so we did not wait through the queue. Perhaps in a future episode I'll record some of that audio. But for now, put on your headphones as this is a binaural recording of Roger Rabbit's Car Toon Spin at Disneyland!
The attraction audio recorded for this episode is available exclusively to the Saturday Morning Media Patron Patron. Support the show and get fun Bonus content over at http://www.patreon.com/saturdaymorningmedia
Episode edited by Stephen Staver
FOLLOW US
http://www.facebook.com/attractionchecklist
http://www.facebook.com/saturdaymorningmedia
http://www.twitter.com/SaturdayMMedia
https://plus.google.com/+Saturdaymorningmedia
https://www.linkedin.com/company/saturday-morning-media
http://www.youtube.com/user/SaturdayMorningMedia?sub_confirmation=1
FOLLOW GRANT
http://www.MrGrant.com
http://www.twitter.com/toasterboy
https://instagram.com/throwingtoasters/
SOURCES:

https://en.wikipedia.org/wiki/Roger_Rabbit%27s_Car_Toon_Spin
https://disneyland.disney.go.com/attractions/disneyland/roger-rabbits-car-toon-spin/
Show ©2019 Saturday Morning Media/Grant Baciocco