For the First Time in Forever: A "Frozen" Sing-Along Celebration – Disney's Hollywood Studios – Attraction Checklist #78
Podcast: Play in new window | Download (Duration: 36:29 — 25.1MB) | Embed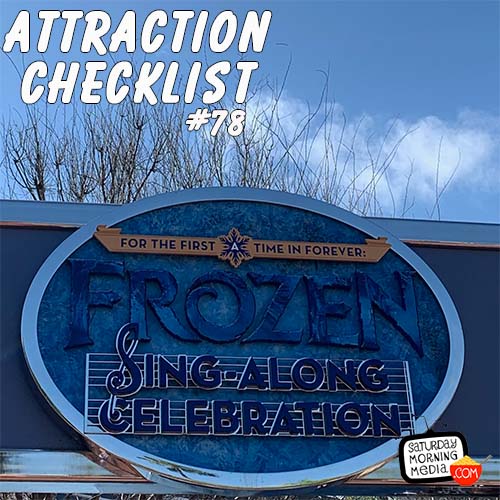 http://www.attractionchecklist.com – Guest host Stephen Staver fills in for Grant and sets up our trip to Disney's Hollywood Studios to see For the First Time in Forever: A Frozen Sing-Along Celebration! After the show, Grant Baciocco and John B. deHaas discuss their thoughts about this attraction. Recorded on March 20, 2019.
TRANSCRIPT:
Welcome to Attraction Checklist.I'm Stephen Staver sitting in for Grant Baciocco. This episode, we head to For the First Time in Forever: A Frozen Sing-Along CelebrationAt Disney's Hollywood Studios.The show is based on Disney's 2013 animated film Frozen, with songs and stories from the film.The DisneyWorld website says You'll melt for this heartwarming celebration of Frozen with a flurry of stories, songs and special guests.Audience participation is encouraged, and Fastpass+ is avilable for this attraction.Now before we Let it Go, here are 5 Fast Facts about the show.
The show originally premiered at the Premiere Theater in the Streets of America section of Disney's Hollywood Studios during the 2014 Frozen Summer Fun on July 5, 2014.
Versions of the show were also performed in Disney California Adventure, Disneyland Paris, and Hong Kong Disneyland.
The show in Disneyland Paris offered separate French and English language presentations.
The show in Disney California Adventure was located in the Sunset Showcase Theater which previously hosted the Muppet*Vision 3D theater, and now hosts Mickey's PhilharMagic.
The show at Disney's Hollywood Studios takes place in Echo Lake, replacing the American Idol Experience which ran from February 14, 2009 to August 30, 2014
Now let's head on over and join Elsa and Ana and the rest of the Frozen cast.After the show, Grant and John B deHaas will give you their thoughts on the show. And this is a binaural recording, so if you have headphones, put them on now, as we experience For the First Time In Forever, A frozen sing-along celebration, At Disney's Hollywood Studios.
The attraction audio recorded for this episode is available exclusively to the Saturday Morning Media Patron Patron. Support the show and get fun Bonus content over at http://www.patreon.com/saturdaymorningmedia
Episode edited by Stephen Staver
FOLLOW US
http://www.facebook.com/attractionchecklist
http://www.facebook.com/saturdaymorningmedia
http://www.twitter.com/SaturdayMMedia
https://plus.google.com/+Saturdaymorningmedia
https://www.linkedin.com/company/saturday-morning-media
http://www.youtube.com/user/SaturdayMorningMedia?sub_confirmation=1
FOLLOW GRANT
http://www.MrGrant.com
http://www.twitter.com/toasterboy
https://instagram.com/throwingtoasters/
Show ©2019 Saturday Morning Media/Grant Baciocco