Walt Disney's Enchanted Tiki Room – Magic Kingdom – Attraction Checklist #79
Podcast: Play in new window | Download (Duration: 26:01 — 18.0MB) | Embed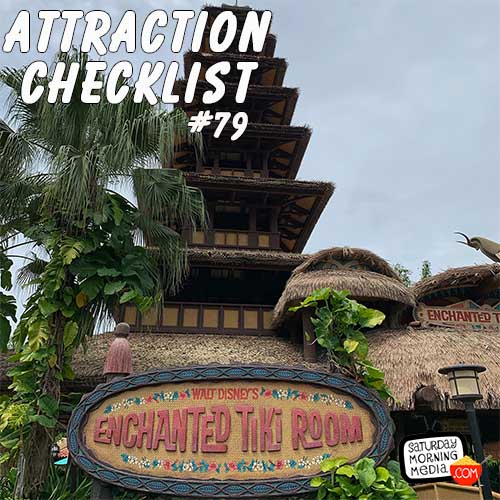 http://www.attractionchecklist.com – By request, let's fly away to the Sunshine Pavilion and experience Walt Disney's Enchanted Tiki Room! We'll learn a little about this iconic attraction and then hear the whole show! Afterwards, Grant will give his thoughts on The Enchanted Tiki Room! Recorded on August 17, 2019.
TRANSCRIPT:
Welcome to Attraction Checklist.
This episode, by special request from Nicholas Floyd, we head to Magic Kingdom in Walt Disney World to bask in the wonder that is Walt Disney's Enchanted Tiki Room! Located in Adventureland, the guide map describes this attraction by saying Watch tropical birds and colorful flowers come to life. There are no age or height requirements for this show and because it is a show, there isn't a Thrill Level listed.
Before we fly off to the tropical hideaway, here are five fast facts about Walt Disney's Enchanted Tiki Room in Walt Disney World's Magic Kingdom.
1. Walt Disney's Enchanted Tiki Room was Magic Kingdom, opening day attraction, opening with the park on October 1, 1971.
2. The attraction was an exact copy of the attraction found at Disneyland albeit with a different pre-show and a slightly different name. When the Tiki Room opened in Walt Disney World it was called Tropical Serenade. It would jkeep this name for many years, eventually being renamed The Enchanted Tiki Room.
3. In September of 1997, The Enchanted Tiki Room was closed to make way an overhaul and the addition of new show elements for a new attraction called The Enchanted Tiki Room (Under New Management). This new version of the attraction was much maligned by fans of the original mostly because of the addition of audio animatronics of Iago from Aladdin and Zazu from The Lion King as well as more modern music.
4. In January of 2011, a fire broke out in the attic of the attraction, seriously damaging one of the Iago audio animatronics.
5. The attraction re-opened in August of 2011 and the Under New Management elements were stripped away and the show was restored to it original form, save for a few edits in the music to tighten up the show's running time.
Let's head off to Walt Disney's Enchanted Tiki Room for a Tropical Serenade. After the attraction audio, I'll give you my thoughts on this attraction and this is a binaural recording, so if you have headphones, put them on now as we check out Walt Disney's Enchanted Tiki Room at Walt Disney World's Magic Kingdom!
The attraction audio recorded for this episode is available exclusively to the Saturday Morning Media Patron Patron. Support the show and get fun Bonus content over at http://www.patreon.com/saturdaymorningmedia
Episode edited by Stephen Staver
FOLLOW US
http://www.facebook.com/attractionchecklist
http://www.facebook.com/saturdaymorningmedia
http://www.twitter.com/SaturdayMMedia
https://plus.google.com/+Saturdaymorningmedia
https://www.linkedin.com/company/saturday-morning-media
http://www.youtube.com/user/SaturdayMorningMedia?sub_confirmation=1
FOLLOW GRANT
http://www.MrGrant.com
http://www.twitter.com/toasterboy
https://instagram.com/throwingtoasters/
Show ©2019 Saturday Morning Media/Grant Baciocco