Tarzan's Treehouse – Disneyland – Attraction Checklist #76
Podcast: Play in new window | Download (Duration: 11:16 — 7.8MB) | Embed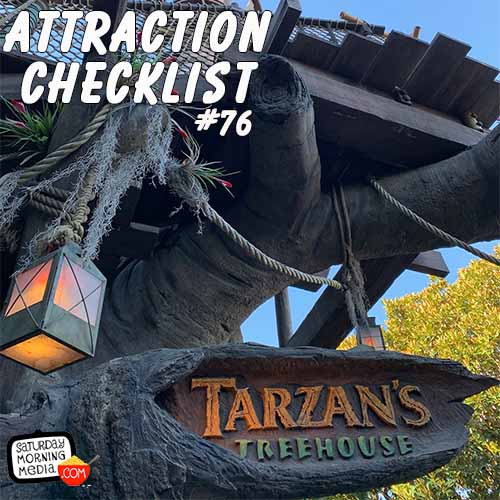 http://www.attractionchecklist.com – Join John B. deHaas and I as we take a hike up to the top of Tarzan's Treehouse at Disneyland! Recorded on December 2, 2018.
TRANSCRIPT:
Welcome to Attraction Checklist.
This episode we take a hike to the top of Disneyland's Tarzan's Treehouse. Located in Adventureland, Tarzan's Treehouse is described on the Disneyland website by saying: Tour the legendary vine-swinger's jungle home—built in an 80-foot-tall tree—and experience life on the wild side. There are no height requirements for this attraction but guests must be ambulatory to experience it.
Before we visit Tarzan and Jane, here are five fast facts about Tarzan's treehouse at Disneyland.
1. Tarzan's Treehouse used to have much different residents. Originally opening in November of 1962, this was the Swiss Family Treehouse and it stayed that way until it's closure on March 8, 1999. The treehouse was then retimed to the Disney movie Tarzan and reopened on June 23, 1999.
2. The treehouse grew a little when it was retimed to Tarzan, gaining 10 more feet in the process!
3. The tree has been given the scientific name "Disneyodendron Semperflorens Grandis," which means "large, ever-blooming Disney tree."
4. Subtle nods to the Swiss Family Treehouse are present in Tarzan's Treehouse, including the Mind Thy Head sign which is still present.
5. Eagle eyed guests will spot a Beauty and the Beast Easter egg in a teapot and chipped tea cup that bear a striking resemblance to Mrs. Potts and Chip.
Now let's swing up to Tarzan's Treehouse. Joining me today is John B. deHaas and after we walk through we'll discuss our thoughts on this attraction. This is a binaural recording so if you have headphones put them on now as we head to Tarzan's Treehouse at Disneyland!
The attraction audio recorded for this episode is available exclusively to the Saturday Morning Media Patron Patron. Support the show and get fun Bonus content over at http://www.patreon.com/saturdaymorningmedia
Episode edited by Stephen Staver
FOLLOW US
http://www.facebook.com/attractionchecklist
http://www.facebook.com/saturdaymorningmedia
http://www.twitter.com/SaturdayMMedia
https://plus.google.com/+Saturdaymorningmedia
https://www.linkedin.com/company/saturday-morning-media
http://www.youtube.com/user/SaturdayMorningMedia?sub_confirmation=1
FOLLOW GRANT
http://www.MrGrant.com
http://www.twitter.com/toasterboy
https://instagram.com/throwingtoasters/
TRIP SAVVY
https://www.tripsavvy.com/climbing-tarzans-treehouse-4120128
WIKIPEDIA
https://en.wikipedia.org/wiki/Tarzan%27s_Treehouse
Show ©2019 Saturday Morning Media/Grant Baciocco