Hyperspace Mountain – Disneyland – Attraction Checklist #74
Podcast: Play in new window | Download (Duration: 9:28 — 6.6MB) | Embed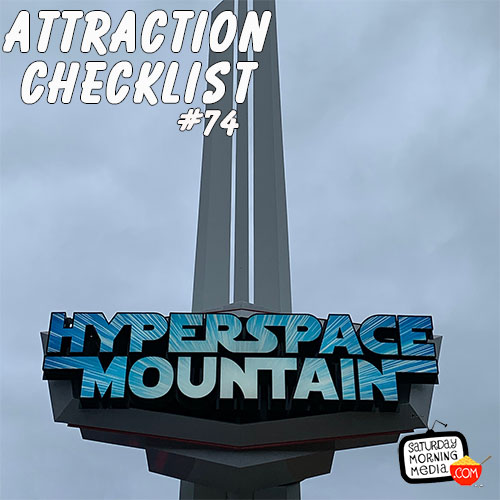 http://www.attractionchecklist.com – As the Galaxy's Edge celebration continues, we take a ride on the pre-Batuu Space Mountain overlay known as Hyperspace Mountain. Recorded on May 13, 2019.
TRANSCRIPT:
Welcome to Attraction Checklist.
As we celebrate the opening of Galaxy's Edge at Disneyland, let's take a ride on a pre-Batuu attraction, the Space Mountain overlay known as Star Wars Hyperspace Mountain. Hyperspace Mountain is described on the Disneyland website by saying: Hurtle through hyperspace while dodging furious dogfights during this high-speed Star Warsadventure! Riders must be 40" or taller to ride this attraction that the thrill level describes as being a thrill ride with small drops that is Dark Loud and Scary. Fast Passes are available for this attraction and a single rider line is available.
Before we fire up the hyper drive, here are 5 fast facts about Star Wars Hyperspace Mountain.
1. Star Wars Hyperspace Mountain first blasted into Disneyland on November 14, 2015 as part of the Season of the Force event celebrating the release of the Star Wars: The Force Awakens film.
2. According to Walt Disney Imagineering's Executive Creative Director Brent Strong, it only takes a single hour to change Space Mountain from the classic version to Star Wars Hyperspace Mountain. He is quoted as saying, "The longest part from switching from classic Space Mountain to Hyperspace Mountain is actually putting up the marquee in front of the attraction."
3. The development of Star Wars Hyperspace Mountain started with the music of Star Wars composer John Williams. Imagineers would edit together different pieces of the score and then ride the attraction with headphones and personal audio devices to see how the music timed out with the ride.
4. The new soundtrack for Hyperspace Mountain was recorded by the London Symphony Orchestra at famed Abby Road Studios.
5. According to the storylines, the space battle that takes place during the ride is actually the one that caused all the wrecked Star Destroyers on the planet of Jakku that the character of Rey is searching through in the beginning of The Force Awakens.
Now it's time to ride Star Wars Hyperspace Mountain. After the ride I'll talk about my thoughts on this attraction and, this is a binaural recording so if you have headphones, put them on now as we experience Star Wars Hyper Space Mountain at Disneyland!
The attraction audio recorded for this episode is available exclusively to the Saturday Morning Media Patron Patron. Support the show and get fun Bonus content over at http://www.patreon.com/saturdaymorningmedia
Episode edited by Stephen Staver
FOLLOW US
http://www.facebook.com/attractionchecklist
http://www.facebook.com/saturdaymorningmedia
http://www.twitter.com/SaturdayMMedia
https://plus.google.com/+Saturdaymorningmedia
https://www.linkedin.com/company/saturday-morning-media
http://www.youtube.com/user/SaturdayMorningMedia?sub_confirmation=1
FOLLOW GRANT
http://www.MrGrant.com
http://www.twitter.com/toasterboy
https://instagram.com/throwingtoasters/
DISNEYLAND WEBSITE
https://disneyland.disney.go.com/attractions/disneyland/hyperspace-mountain/
WIKIPEDIA
https://ohmy.disney.com/parks/2018/05/21/hyperspace-mountain-walt-disney-imagineer-interview/
Show ©2019 Saturday Morning Media/Grant Baciocco