O' Canada! – Epcot – Walt Disney World – Attraction Checklist #71
Podcast: Play in new window | Download (Duration: 20:41 — 14.3MB) | Embed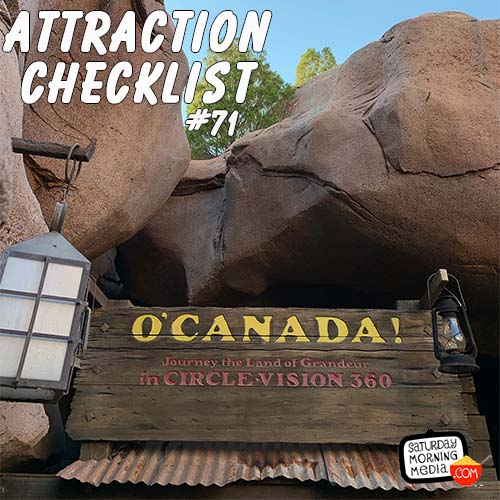 http://www.attractionchecklist.com – This episode I head back to Epcot to experience all the CircleVision 360 Magic that is O'Canada! Recorded on March 21, 2019.
TRANSCRIPT:
Welcome to Attraction Checklist.
This episode we go to Florida to visit the Great White North. Of course I'm talking about seeing the Circle-Vision 360 film O' Canada! At the Canada pavilion at Epcot. Located in Epcot's World Showcase, O' Canada is described in the guide map by saying Discover the True North of Canada in this inspirational Circle-Vision 360 film. There are no age or height requirements for this film.
Now, here are five fast fact about Epcot's O' Canada!
1. O' Canada! is an Epcot opening day attraction, opening with the park on October 1, 1982.
2. Though the version of the film we will listen to today has footage from the original 1982 production, the film was updated in 2007 at the urging of the Canadian Tourism Commission. For this update, new footage was shot and Martin Short was added as the host of the film.
3. The iconic Epcot song 'Canada – You're A Lifelong Journey' was updated in 2007 as well. It is now sung by Canadian Idol winner Eva Avila
4. The O' Canada! Circle-Vision 306 theater is located in the Maple Leaf Mine in the Canada Pavilion. The theater can hold up to 600 guests per showing.
5. On November 19, 2018, Disney announced that they are working on an entirely new Circle-Vision 360 film for the Canada Pavilion that will debut in the future.
Now let's hear my experience at O' Canada! In Epcot. After the audio I'll give you my thoughts on this attraction so stay tuned for that. This is a binaural recording so if you have headphones, put them on now as we hear O' Canada! At Epcot!
The attraction audio recorded for this episode is available exclusively to the Saturday Morning Media Patron Patron. Support the show and get fun Bonus content over at http://www.patreon.com/saturdaymorningmedia
Episode edited by Stephen Staver
FOLLOW US
http://www.facebook.com/attractionchecklist
http://www.facebook.com/saturdaymorningmedia
http://www.twitter.com/SaturdayMMedia
https://plus.google.com/+Saturdaymorningmedia
https://www.linkedin.com/company/saturday-morning-media
http://www.youtube.com/user/SaturdayMorningMedia?sub_confirmation=1
FOLLOW GRANT
http://www.MrGrant.com
http://www.twitter.com/toasterboy
https://instagram.com/throwingtoasters/
WALT DISNEY WORLD WEBSITE
https://disneyworld.disney.go.com/attractions/epcot/o-canada/
WIKIPEDIA
https://en.wikipedia.org/wiki/O_Canada!_(film)
Show ©2019 Saturday Morning Media/Grant Baciocco