The Twilight Zone Tower Of Terror – Disney's Hollywood Studios – Attraction Checklist #69
Podcast: Play in new window | Download (Duration: 13:43 — 9.5MB) | Embed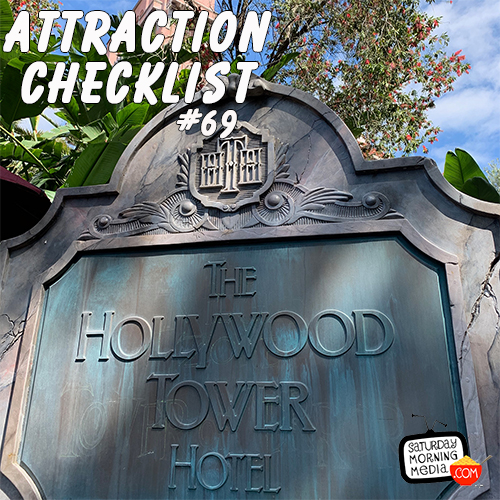 http://www.attractionchecklist.com – The Twilight Zone Tower of Terror is the marquee attraction of Disney's Hollywood Studios. In this episode, John and I check in to the Hollywood Tower Hotel to review Tower of Terror! Recorded on March 20, 2019.
TRANSCRIPT:
Welcome to Attraction Checklist.
This episode John B. deHaas and I return to Disney's Hollywood Studios to ride one of the park's signature attractions, The Twilight Zone Tower of Terror! The guide map describes this attraction saying Take a thrilling ride into the twilight zone aboard a haunted elevator. Guests must be 40 inches or taller to ride this attraction. The thrill level describes it as a Thrill Ride with Big Drops that is loud and scary. Fastpass+ is available.
Before we visit the Hollywood Tower Hotel, here are five fast facts about The Twilight Zone Tower of Terror
1. The Twilight Zone Tower of Terror opened at Disney's Hollywood Studios on July 22, 1994.
2. In order to get the perfect free-fall effect for guests, imagineers actually attached cables to the bottom of the elevators to pull them down faster than a regular free fall would. The elevator cars can reach speeds of 39 miles per hour! 15 times the speed of a regular elevator.
3. In 2004, the attraction was reprogrammed to use a randomized series of drops. This provides each group of guests with a completely different experience each time they ride. This led to the promotional slogan: Never the Same Fear Twice
4. The attraction's pre-show was directed by director Joe Dante, known for directing such horror films as Piranah, The Howling and Gremlins 2: The New Batch.
5. One of my favorite Tower of Terror facts is that it can actually be seen from EPCOT's World Showcase Lagoon! The top of the Tower of Terror was decorated so that it blended in with the skyline of the Morocco pavilion and be less noticeable.
Now it's time to ride The Twilight Zone Tower of Terror! After the ride, John and I will discuss our thoughts on this attraction so stay tuned for that. This is a binaural recording so if you have headphones, put them on now as we ride The Twilight Zone Tower of Terror at Disney's Hollywood Studios!
The attraction audio recorded for this episode is available exclusively to the Saturday Morning Media Patron Patron. Support the show and get fun Bonus content over at http://www.patreon.com/saturdaymorningmedia
Episode edited by Stephen Staver
FOLLOW US
http://www.facebook.com/attractionchecklist
http://www.facebook.com/saturdaymorningmedia
http://www.twitter.com/SaturdayMMedia
https://plus.google.com/+Saturdaymorningmedia
https://www.linkedin.com/company/saturday-morning-media
http://www.youtube.com/user/SaturdayMorningMedia?sub_confirmation=1
FOLLOW GRANT
http://www.MrGrant.com
http://www.twitter.com/toasterboy
https://instagram.com/throwingtoasters/
WALT DISNEY WORLD WEBSITE
https://disneyworld.disney.go.com/attractions/hollywood-studios/twilight-zone-tower-of-terror/

WIKIPEDIA
https://en.wikipedia.org/wiki/The_Twilight_Zone_Tower_of_Terror

Show ©2019 Saturday Morning Media/Grant Baciocco