Splash Mountain – Magic Kingdom – Walt Disney World – Attraction Checklist #66
Podcast: Play in new window | Download (Duration: 18:58 — 13.1MB) | Embed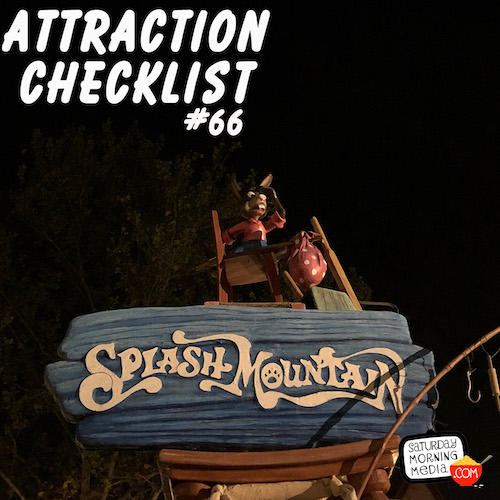 http://www.attractionchecklist.com – It's time for John and I to visit our laughin' place as we visit Magic Kingdom to ride Splash Mountain! Recorded on March 21, 2018.
TRANSCRIPT:
Welcome to Attraction Checklist.
This episode we find ourselves in a whole new kind of Briar Patch as we head to Magic Kingdom in Walt Disney World to experience Splash Mountain. Magic Kingdom's guidmap describe the attraction by saying, "Enjoy a thrilling log flume ride based on 'Song of the South.'" Guests must be 40" or taller to ride and FastPass+ is available. The thrill level of this attraction describes the ride as a Thrill Ride and a Water Ride with Big Drops.
Now we covered Splash Mountain at Disneyland back in episode 8 and the development of the ride at Magic Kingdom followed the same path, but here are some more fast facts about Splash Mountain at Magic Kingdom.
1. Splash Mountain at Magic Kingdom opened officially on October 2, 1992. Interestingly, the Splash Mountain attraction in Tokyo Disneyland opened the day before making for almost simultaneous attraction openings.
2. The original Splash Mountain in Disneyland is located in the Critter Country area of the park. With no Critter Country in Magic Kingdom, Imagineers decided to build the attraction in Frontierland.
3. Because of the attraction being located in Frontierland, the soundtrack of Magic Kingdom's Splash Mountain differs in instrumentation from Disneyland's. Disneyland's features more of a big band sound while Magic Kingdom's soundtrack has a more bluegrass feel.
4. Nick Stewart who voiced B'rer Bear in the film, Song of the South also voices the character in this attraction.
5. The Magic Kingdom version of Splash Mountain has 68 animatronics. Far fewer than Disneyland's 103. Of course, the Magic Kingdom Splash Mountain didn't have the benefit of the closing of America Sings! The attraction where all the animatronics came from.
Now, let's ride Magic Kingdom's Splash Mountain! Joining me once again is John B. deHaas and after the show we'll give you our thoughts on this attraction. This is a binaural recording so if you have headphones put them on now as we experience Splash Mountain at Walt Disney World's Magic Kingdom.
The attraction audio recorded for this episode is available exclusively to the Saturday Morning Media Patron Patron. Support the show and get fun Bonus content over at http://www.patreon.com/saturdaymorningmedia
Episode edited by Stephen Staver
FOLLOW US
http://www.facebook.com/attractionchecklist
http://www.facebook.com/saturdaymorningmedia
http://www.twitter.com/SaturdayMMedia
https://plus.google.com/+Saturdaymorningmedia
https://www.linkedin.com/company/saturday-morning-media
http://www.youtube.com/user/SaturdayMorningMedia?sub_confirmation=1
FOLLOW GRANT
http://www.MrGrant.com
http://www.twitter.com/toasterboy
https://instagram.com/throwingtoasters/
WALT DISNEY WORLD WEBSITE
https://disneyworld.disney.go.com/attractions/magic-kingdom/splash-mountain/
WIKIPEDIA
https://en.wikipedia.org/wiki/Splash_Mountain#Magic_Kingdom
THE MICKEY WIKI
http://themickeywiki.com/index.php?title=Splash_Mountain
Show ©2019 Saturday Morning Media/Grant Baciocco