Rivers of Light – Disney's Animal Kingdom – Attraction Checklist #65
Podcast: Play in new window | Download (Duration: 25:54 — 17.8MB) | Embed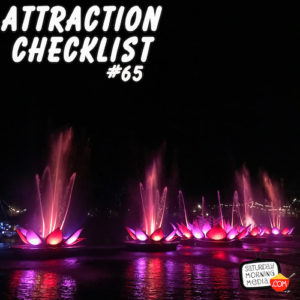 http://www.attractionchecklist.com – Join John and Grant as they venture to Disney's Animal Kingdom to watch the nighttime spectacular, Rivers of Light! Recorded on October 2, 2018.
TRANSCRIPT:
Welcome to Attraction Checklist.
This episode takes us to Disney's Animal Kingdom in Walt Disney World to experience the park's nighttime spectacular Rivers of Light. The guide map describes this show by saying, "Surrender to the beauty and harmony of all living things during this music-filled spectacle of water, light and legend. This is an all ages attractions and FastPass+ is offered.
Now before we hear the show, here are five fast facts about Rivers of Light at Disney's Animal Kingdom.
1. First announced in October of 2013, Rivers of Light officially opened at Disney's Animal Kingdom on February 17, 2017. It had been originally planned to open on April 22, 2016, but technical difficulties prevented it from doing so.
2. The 15 minute long show is unique in that it is a Disney Park spectacular that features no fireworks. The reason for this is because the fireworks would scare the animals that call the park home.
3. The animals that called DIsney's Animal Kingdom home got a sneak preview of Rivers of Light before anyone else. For months before the show opened, the soundtrack of the show along with prerecorded audience noise was played as the park's animals were bedding down for the night so they could get used to the new sounds in their environment.
4. The music for Rivers of Light was composed by the team of Don Harper, Mark Mancina and Dave Metzger with lyrics by Miriam Stockley who also performs some of the chants during the show.
5. The show's unique animal barges that float around the lagoon on Discovery River do not have drivers aboard as they are remotely controlled.
Now it's time for us to experience, Rivers of Light. Joining me for the show is John B. deHaas and after the show we'll give you our thoughts on this attractions. This is a binaural recording so if you have headphones put them on now as we experience Rivers of Light at Disney's Animal Kingdom.
The attraction audio recorded for this episode is available exclusively to the Saturday Morning Media Patron Patron. Support the show and get fun Bonus content over at http://www.patreon.com/saturdaymorningmedia
Episode edited by Stephen Staver
FOLLOW US
http://www.facebook.com/attractionchecklist
http://www.facebook.com/saturdaymorningmedia
http://www.twitter.com/SaturdayMMedia
https://plus.google.com/+Saturdaymorningmedia
https://www.linkedin.com/company/saturday-morning-media
http://www.youtube.com/user/SaturdayMorningMedia?sub_confirmation=1
FOLLOW GRANT
http://www.MrGrant.com
http://www.twitter.com/toasterboy
https://instagram.com/throwingtoasters/
WALT DISNEY WORLD WEBSITE
https://disneyworld.disney.go.com/entertainment/animal-kingdom/rivers-of-light/
WIKIPEDIA
https://en.wikipedia.org/wiki/Rivers_of_Light
ORLANDO SENTINEL
https://www.orlandosentinel.com/travel/attractions/theme-park-rangers-blog/os-et-disney-rivers-light-first-look-20170213-story.html
Show ©2019 Saturday Morning Media/Grant Baciocco