Pinocchio's Daring Journey – Disneyland – Attraction Checklist #64
Podcast: Play in new window | Download (Duration: 8:30 — 6.3MB) | Embed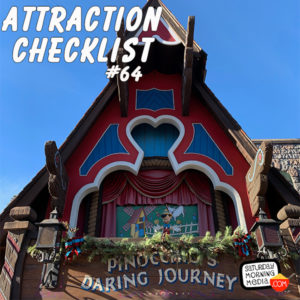 http://www.attractionchecklist.com – John and I head to Disneyland to ride the classic Fantasyland Dark Ride, Pinocchio's Daring Journey!  Recorded on December 2, 2018.
TRANSCRIPT:
Welcome to Attraction Checklist.
Let's head to Fantasyland in Disneyland to ride the classic attraction Pinocchio's Daring Journey!  Disneyland's website describes the attraction by saying, "Relive the classic adventures of the wooden puppet who dreamed of becoming a real boy."  There are no age or height requirements for this attraction and the thrill level describes the ride as being a slow ride that is dark, loud and scary.
Before we skip school to become actors, here are five fast facts about Pinocchio's Daring Journey.
1. Though this attractions feels like a classic, Disneyland Opening Day attraction, it actually opened at Disneyland on May 23, 1983.
2.  The outside of the attraction is based on concept art that artist Gustaf Tengren did for the movie Pinicchio for Stromboli's theatre before production decided to make Stromboli a traveling performer.
3. Before you head inside to ride this attraction, take a look at the roof of the building and see if you can spot the weather vane in the shape of Monster the Whale.  It's a little warning of things to come.
4. Pinocchio's Daring Journey was the first attraction created by Disney to use holographic imagery which appears in the hand held mirror Lampwick is holding when he begins turning into a donkey.
5. The Blue Fairy that appears at the end of the attraction using the classic Pepper's Ghost illusion.  The same illusion used in the Grand Hall scene of the Haunted Mansion.
Now it's time to wish upon a star and ride Pinocchio's Daring Journey.  Along for the ride today is John B. deHaas and after we ride we'll give you our thoughts on this attraction. This is a binaural recording so if you have headphones put them on now as we experience Pinocchio's Daring Journey.
The attraction audio recorded for this episode is available exclusively to the Saturday Morning Media Patron Patron.  Support the show and get fun Bonus content over at http://www.patreon.com/saturdaymorningmedia
Episode edited by Stephen Staver
FOLLOW US
http://www.facebook.com/attractionchecklist 
http://www.facebook.com/saturdaymorningmedia 
http://www.twitter.com/SaturdayMMedia 
https://plus.google.com/+Saturdaymorningmedia 
https://www.linkedin.com/company/saturday-morning-media
http://www.youtube.com/user/SaturdayMorningMedia?sub_confirmation=1
FOLLOW GRANT
http://www.MrGrant.com
http://www.twitter.com/toasterboy 
https://instagram.com/throwingtoasters/
DISNEYLAND WEBSITE
https://disneyland.disney.go.com/attractions/disneyland/pinocchios-daring-journey
WIKIPEDIA
https://en.wikipedia.org/wiki/Pinocchio%27s_Daring_Journey
Show ©2019 Saturday Morning Media/Grant Baciocco